If you decide to purchase a product from one of the links on our site, we may earn a small affiliate commission from the retailer (at no additional cost to you). We only feature products we would recommend to friends & family. Your purchase through an affiliate link helps us keep this site up and running! 🍄
So, you're thinking about adding reishi supplements into your daily routine? But are wondering what the potential side effects and interactions are?
Well, you've come to the right place.
It's always important to consult both your physician and pharmacist before incorporating reishi into your daily routine. There simply isn't enough scientific evidence to say with confidence that you won't have a negative side effect or potential interaction.
But this blog will act as a great starting point for a conversation with your doctor.
First, let's cover a few of the basics:

What are reishi mushrooms?
Reishi (Ganoderma lucidum/lingzhi) is well regarded as the most famous medicinal mushroom, largely due to its long history of use (over 2000 years) in traditional Chinese medicine and the relative abundance of research and studies that have been conducted.
Reishi has shiny skin, is widely cultivated, and has a substantial list of potential benefits, from its immune-boosting properties to its ability to relieve stress/anxiety. For good reason, reishi is often referred to as the "Queen of Mushrooms".
Reishi mushrooms have been used for many purported health benefits including, but not limited to:
Immune Health
Anti-Inflammatory
Sleep Aid
Stress Relief
Fights Fatigue
Heart Health
Brain Health
Gut Health
Lower Blood Sugar
Anti-Cancer
Cognitive Health
Respiratory Health
It's one of the most well-rounded mushrooms in terms of its potential health benefits.
There are multiple studies done surrounding its benefits, from in-vitro studies, animal studies, and some human studies.
As for any health supplement, we encourage the continuation of studies and trials to better understand the efficacy that reishi can have on different medical conditions.
However, before adding any supplement to your diet, it's important to understand the potential side effects.
What are the most common side effects of reishi mushrooms?
Currently, reishi is generally regarded as a safe product to use, with studies reporting very minimal or minor side effects.
A short term trial on 16 humans, supplementing 2 grams of reishi extract or placebo was done over the course of 10 days, stating that, "no adverse effects were observed after the extract intake."
Studies with longer term use have recorded minimal side effects, including, but not limited to:
However, an animal study done on mice concluded that "5,000 mg/kg to mice for 30 days does not affect body weight, organ weight, and hematological parameters [7]. A G. lucidum extract (equivalent to 220 g/kg G. lucidum) does not produce any genotoxicty as chromosomal breakages or cytotoxic effects in mouse lymphocytes. These data suggest that the water extract of G. lucidum or GLP is considerably safe in mice."
Supplementation with reishi mushroom should be done carefully. It's important to always seek advice from a licensed physician and your doctor.
Who shouldn't take reishi mushrooms?
Those who are pregnant or breastfeeding should refrain from taking reishi mushroom supplements, because there isn't enough research regarding the safety of it in that group.
One study also states that, "patients who receive treatment with anti-diabetics or anti-coagulants, as G. lucidum may augment the effects of these drugs, because of its blood glucose lowering and anti-coagulant effects. Similarly, patients who have gastric ulcers or active gastrointestinal bleeding, or will have operation soon should consult with their health providers before taking Ganoderma Lucidum (reishi)."
Persons with low blood pressure, diabetics, immune disorders are most at risk.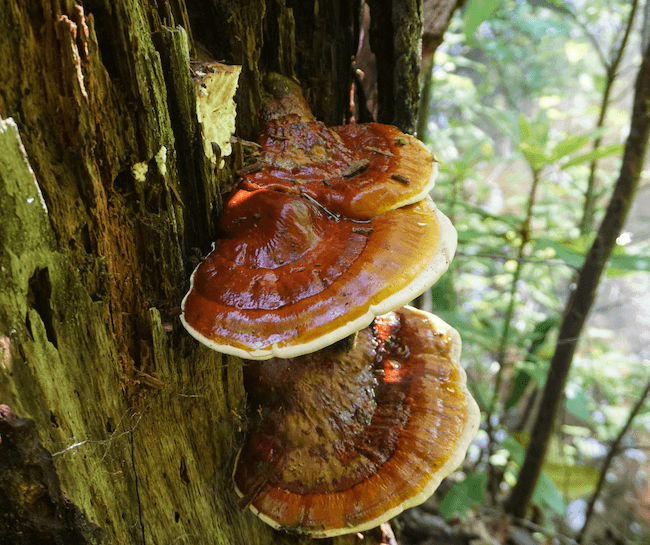 Possible interactions from reishi mushrooms
Because of reishi's anticoagulant (blood-thinning) effects, it's best to consult with your physician if you're taking any blood thinners, like aspirin. We also recommend avoiding reishi supplements if you plan to undergo surgery.
The same goes for those that are taking treatments for diabetes, as reishi may have an interaction with those drugs.
Consult your physician/doctor to get the correct medical guidance.
Reishi mushroom dosage by extract type
Powdered Extract → 1000mg (1g) - 1500mg (1.5g) per day
Liquid Extract → 1ml (1000mg (1g) per day)
Dried Whole Mushroom → 1.5 to 9g per day
To help minimize potential side effects, consider taking reishi at the above dose and discontinue use if any adverse side effects or allergic reactions are noticed.
In the studies that reported minimal side effects for long-term use, consider cycling reishi with other medicinal mushroom products and then reintroducing it if you have concerns.
As always, each human is unique and reactions may vary from person to person. Consult your physician with any medical questions. We put together a guide to reishi dosage considerations here.

How do most people consume reishi mushrooms?
1. Reishi tinctures (liquid extract)
This form of reishi mushroom is the most bioavailable. Typically, a double extraction of hot water and alcohol is done to extract the most beneficial properties of reishi, from polysaccharides, beta-, and alpha-glucans, to triterpenoids, which have all been linked to numerous studies and therapeutic benefits.
With a tincture, you're placing the liquid extract in your mouth (often under your tongue) and it's the most direct form of consuming reishi mushroom extract.
2. Extract Powder
This can either be taken as a powder (typically by teaspoon or what the nutritional label provides as the correct dose) or by capsule.
Extract powder provides the same benefits as a liquid extract. In fact, it's created by drying that liquid extract. Some believe that during this drying process, you lose part of the beneficial substrates and properties, but if done correctly, this should be minimal.
Most who choose extract powder do so for ease of use. You can add the powder directly into a drink of your choosing or take it by capsule if you haven't acquired a taste for the bitterness of reishi powder. To each their own!
We put together a list of the best reishi powder brands here.
3. Dried Reishi Mushroom Tea
While most don't eat reishi raw because it is a bitter and tough mushroom, many opt to include it in their tea. Tea is a great way to make a mini mushroom extraction. You can add mushroom powder and steep it in water, or simply add reishi tincture to your favorite brew. Learn more about reishi tea here.
Final note on reishi's potential side effects
There is still so much left to learn about reishi. Always consult your doctor before adding a new supplement to your routine. Your unique composition, history, and treatment plans may affect how reishi works and feels for you.
If you're ready to keep learning, check out our educational reishi hub here.
Meanwhile, you can follow along with us as we learn more about the functional applications of this incredible mushroom by subscribing to our blog.