If you decide to purchase a product from one of the links on our site, we may earn a small affiliate commission from the retailer (at no additional cost to you). We only feature products we would recommend to friends & family. Your purchase through an affiliate link helps us keep this site up and running! 🍄
Reishi mushrooms have been used in Eastern medicine for centuries, slowly enmeshing itself into Western medicine after its benefits and uses become popular. It boosts the immune system and fights against cancer, and is also great in tea.
Powdered mushroom tea might not sound appetizing, but your palette will be more than ready for this potent concoction after realizing how beneficial it is for your body.
In this article, we'll talk about what reishi mushrooms are, what the benefits of reishi tea are, and how to make reishi tea at home with a very easy reishi tea recipe!
What are reishi mushrooms?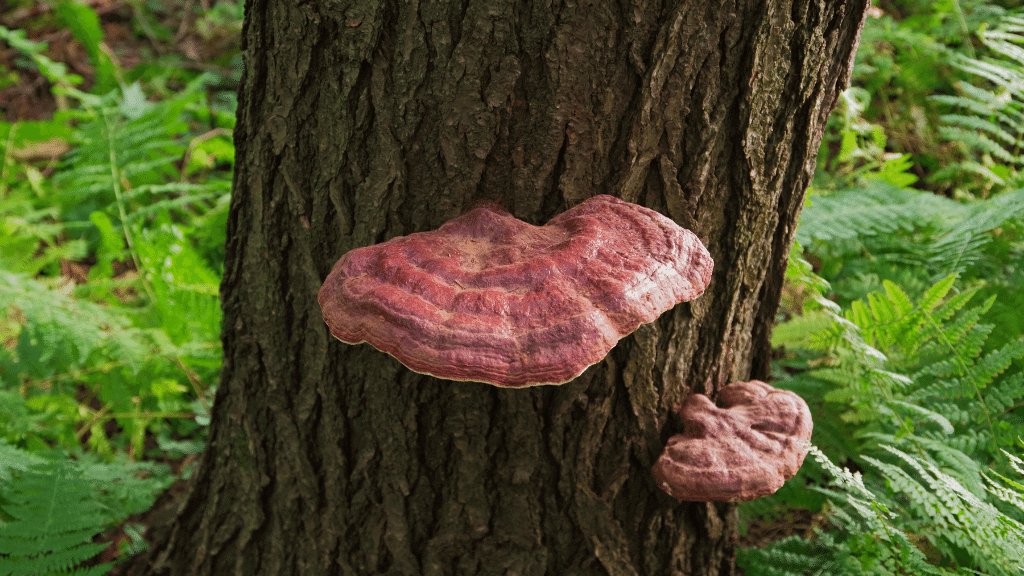 Reishi mushrooms are popular in Asia because they thrive in hot and humid climates. Ready for consumption either fresh or in powder form, it's a versatile mushroom that has been tested in humans and animals alike.
The large, dark mushroom has an earthy texture and glossy appearance. In China, it's seen as the herb of spiritual potency, symbolizing divine power and longevity. As a medical supplement, it has been used for thousands of years.
Its powerful benefits have been documented in ancient scripts, and it has been seen in paintings, carvings, and more. Because this fungus is rare in the wild, it was primarily consumed by the nobility which added to its high regard.
What are the potential benefits of reishi powder tea?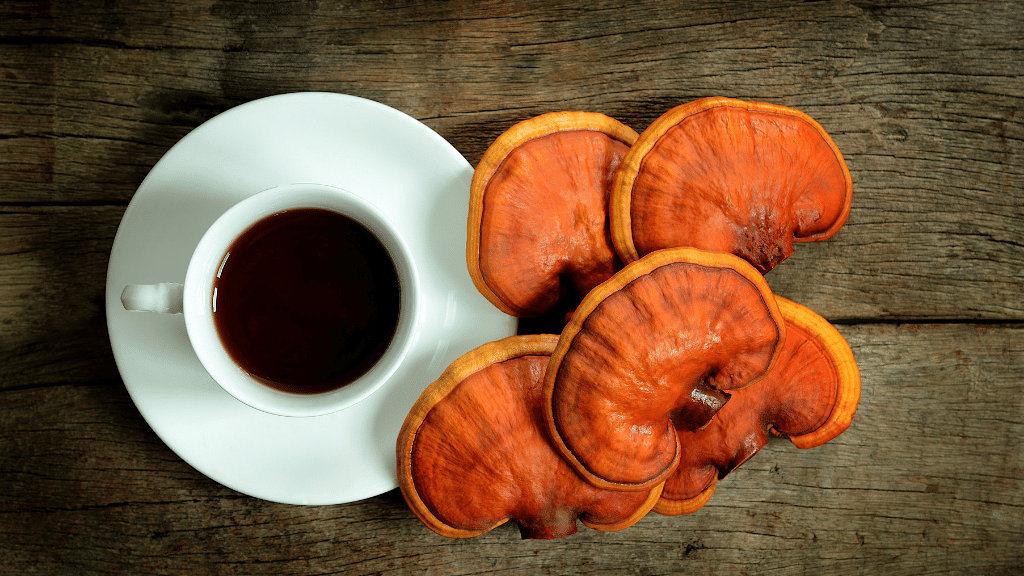 Reishi powder tea has several powerful benefits that have been observed for centuries. Although it has been in practice as a natural remedy for 2,000 years, it's wise to note that the majority of studies on the effects have been done in vitro or on animals. Some of the benefits include:
Anti-aging
Immune boosting
Anxiety relief
Antidepression
Allergy relief
Fights against cancer
Better sleep
Weight management, and more
Our article goes in-depth as to the major health benefits and the studies performed that led to these findings.
What to look for in commercial reishi tea
With mushrooms booming in popularity, there has been an influx of companies scrambling to create products claiming to have reishi and other fungi, but not all of them are created with the same caliber.
When shopping for reishi powder, it's important to only purchase high-quality products that will actually benefit your body. Commercial products should include a third-party COA and be able to accurately list the beneficial compounds such as 1,3 and 1,6 beta-glucan percentages and triterpenoids.
While there are some high-quality full spectrum products on the market - which combine both fruiting body and mycelium, you'll mostly want to stick with products that contain 100% fruiting body.
Reishi tea fruiting body vs mycelium
The fruiting body is the visible part of the mushroom, also known as the cap. The mycelium is the part underneath the mushroom that absorbs the nutrients and is what allows the fruiting body to grow.
That's because there isn't a way to know how much fruiting body vs mycelium is in your product, which means it could be mostly mycelium. Until there is more transparency and regulation in the industry, sticking with 100% fruiting body teas will ensure you're getting the most functional benefit. When the mushroom is cultivated prior to maturity the full benefits can't be reaped, meaning that many companies are selling the mycelium at a lower quality.
Once you have your quality reishi mushroom powder, you can brew your tea. Not all powders are created equal, but brands such as FreshCap, Nootropics Depot, and Mushroom Revival are great choices, as outlined in our article.
How to make reishi mushroom tea
Steeping mushrooms in hot water releases beneficial compounds from beneath the chitin such as beta-glucans. Beta-glucans have a significantly positive impact on the immune system. Although you can brew reishi tea yourself with the actual mushrooms, it's a slow process that includes drying the reishi before simmering.
Making reishi tea with a powder is much more simple and cuts down the steeping time. All you need is:
Boiling water
1 tsp of reishi mushroom powder
Optional: a dash of almond milk, or another dairy-free or plant-based milk
Optional: a dash of coconut oil
Optional: a pinch of sea salt
Optional: Honey, syrup, or sweetener of choice - to taste
Once you've collected your ingredients, the process to make the tea is easy. Simply pour your hot water over your ingredients, stir vigorously to combine, allow the tea to steep for 5-8 minutes, and enjoy!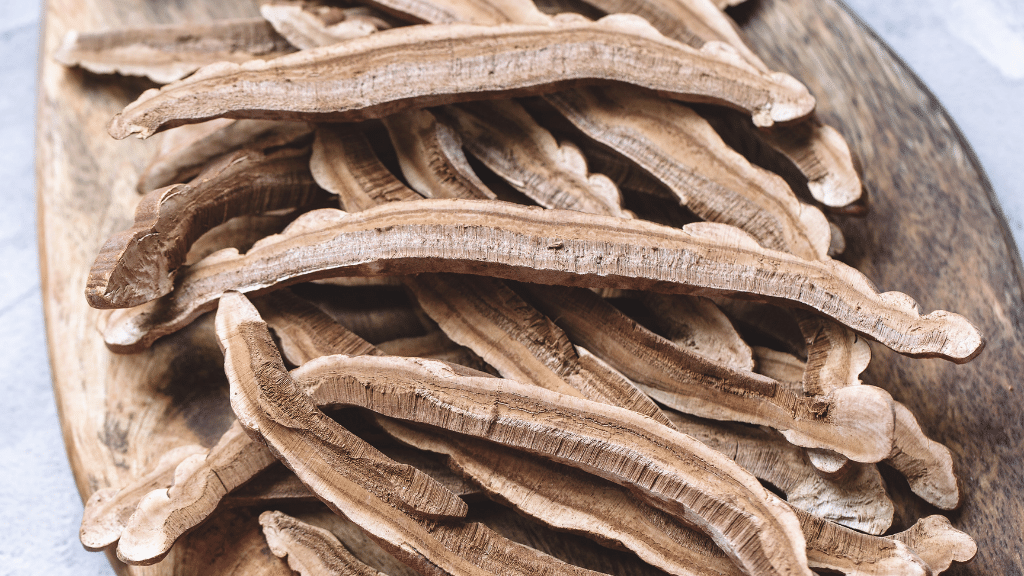 How to make reishi mushroom tea with tincture
Don't have dried reishi mushroom on hand? No problem! You can make delicious and effective reishi mushroom tea by using tincture.
Simply add a measured dose of reishi tincture to your favorite herbal tea. Personally, we like chamomile for a nice floral and earthy balance.
Add your reishi tincture while your brew is hot, and steep according to your tea's package directions.
This is a great alternative for those who don't enjoy the taste of reishi mushrooms. Your herbal tea can do a great job at hiding the reishi tincture.
What does reishi mushroom tea taste like?
Reishi is a big, dense mushroom and is quite dissimilar to mushrooms you're likely used to eating. While some of the flavor profile of mushrooms comes through, many people describe reishi has having a bitter, earthy taste. It tends to be much more bitter than the mushrooms you get from the super market. That's why many people choose to add other ingredients to improve the flavor.
What can you add to reishi tea to make it taste better?
Adding other ingredients such as fresh ginger or even mixing it with another tea like peppermint or iced tea helps mask the flavor. Coconut milk or cream will also cut through some of the bitterness without sacrificing any of the benefits. You might also try adding:
Fresh honey
Lemon
Sugar
Espresso
Cinnamon
Maple syrup
And anything else that you enjoy in a hot cup of tea!
What other drinks can you make with reishi?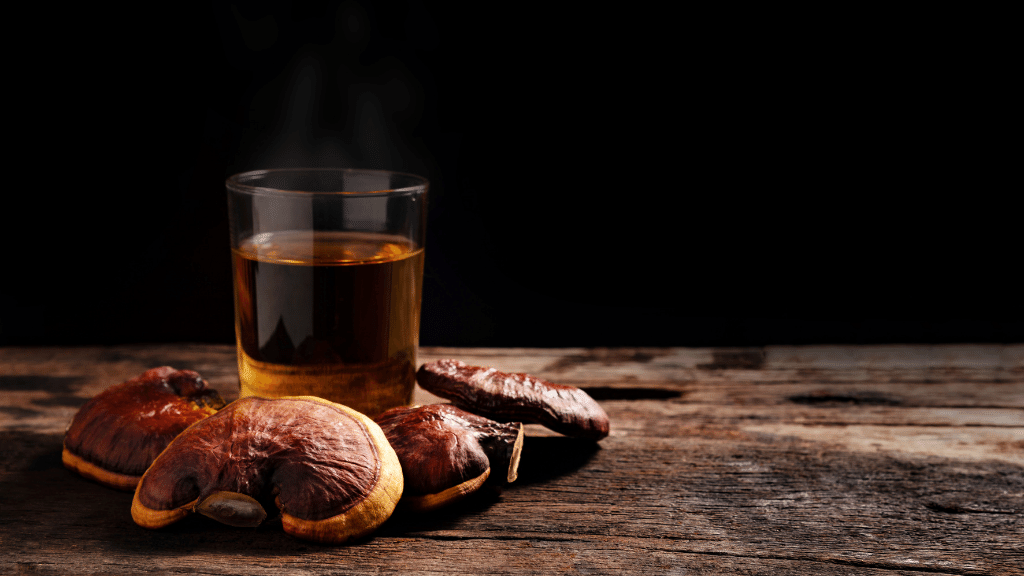 If traditional reishi tea isn't your - ahem - cup of tea, here are some great ideas to get the benefits of reishi tea without the powdery punch:
1. Add reishi tincture to your tea of choice
Not thrilled about drinking reishi powder? We get it. That's why it's also possible to add reishi tincture to a tea of your choice. It doesn't have to be herbal. Try adding it to your morning cup of English Breakfast! That way, you have a lot more control over the overall flavor of your tea with the added benefits of reishi. Simply add 1 tsp of reishi tincture to a very hot cup of tea and allow it to steep for as long as your tea product recommends.
2. Make reishi hot chocolate
Reishi mushrooms can be used in various recipes according to your liking. Craving something chocolatey? Reishi hot chocolate is simple and can be whipped up with ingredients that are probably already in your kitchen. Grab some syrup, almond butter, cinnamon, and dairy-free milk to go with your mushroom powder and sprinkle a bit of sea salt.
3. Make reishi coffee
Looking for something a bit stronger? Add a shot of espresso to your reishi tea to wake you right up. Or, add 1 tsp of powder or tincture to your regular brew. Allow it to steep for a few minutes before enjoying.
4. Make reishi soup
For a heartier and energizing meal, you can create a reishi mushroom and veggie soup. Adding your favorite vegetables to a reishi powder and miso paste broth is such a great meal that's perfect for any day of the week.
Final thoughts on reishi tea
Reishi mushroom tea is a tonic that has been utilized for centuries. Often called the 10,000-year-old mushroom, reishi mushrooms have a variety of powerful health benefits. As long as you do your research in purchasing a quality mushroom powder, adding this super fungi is an easy addition to your lifestyle.