If you decide to purchase a product from one of the links on our site, we may earn a small affiliate commission from the retailer (at no additional cost to you). We only feature products we would recommend to friends & family. Your purchase through an affiliate link helps us keep this site up and running! 🍄
Medicinal mushrooms have become one of the fastest-growing industries – and for good reason. The medicinal mushroom extract market, alone, is expected to grow to over $15 billion by 2026 according to Market Research Future.
From their potential use in alleviating and preventing various medical conditions to supporting a healthy lifestyle, mushroom extracts, which have been a staple in traditional Chinese medicine for thousands of years, are now seeing adoption at the worldwide level. Especially as more research continues to be conducted in the form of clinical trials and studies. For more on mushroom extraction, check out our guide.
If you're here, you're likely looking for the best mushroom tincture product on the market. We've compiled our list of favorites here. Keep reading to see what we used for qualification, and what to look for in a tincture product.
The Best Mushroom Tincture Brands
It has proven its superior quality by its commitment to product development and research into the field of medicinal mushrooms, offering potent, organic extracts, sourced sustainably from Canada. A must-have for all medicinal mushroom advocates.
A well-known brand with worldwide popularity and 13,000+ reviews. It offers a well-researched and quality product at a very competitive price, with deep discounts if you opt into a subscription plan.
Best Transparency - Mushroom Revival
We are Mushroom Revival super fans - and not just because we love their amazing educational podcast. Mushroom Revival does a great job showcasing their mushroom sources, extraction techniques, and COAs showing lab-certified analysis of their products.
We know there are loads of amazing tinctures out there. That's why heading to your local farmer's market is a great place to look for a tincture that's sourced locally. But make sure you know what to look for.
Here's why tincture research is so important:
What to look for in a mushroom tincture extract tincture
Extracts can come in a variety of different forms, from powders and capsules, to liquid extracts (tinctures), which we'll be discussing today.
The importance of extracts begins by understanding the anatomy of a mushroom, because an extract provides a lot more "medicinal" benefit than just eating the raw mushroom by itself.
Mushrooms are high in nutritional value and most people try to incorporate them into their diets because of this. However, it's an acquired taste that isn't shared by all. Extracts, on the other hand, are much different.
Mushrooms have tough cell walls made up of chitin. Our bodies, as great and powerful as they are, cannot break down these cell walls, which prevent us from absorbing the most beneficial, researched compounds of mushrooms, beta-glucans and terpenoids.
Bioactive mushroom compounds
Beta-glucans are responsible for the immune-boosting properties of mushrooms, among other potential health benefits, and other active compounds which have been researched for their own potential benefits, like antiviral and even anti inflammatory properties.
In order for these compounds to be bioavailable, allowing us humans to readily absorb them, an extraction process needs to happen. You can read all about extraction here, but we'll summarize it for you.
Why extraction method is critical to mushroom tincture potency
Beta-glucans are water soluble, so in order to extract those compounds and break down those tough cell walls, a hot water extraction is done. Steeping mushroom tea is like a mini extraction - which is why mushroom tea is so popular in Eastern culture.
This process can be commercially enhanced with very high temperatures and is done at a massive scale to extract the desired compounds and make them bioavailable.
Terpenoids, on the other hand, are alcohol soluble and, you guessed it, require an alcohol extraction, where dried mushrooms are ground up into a powder and put in large vats to extract these compounds.
If products do both layers on extraction, you'll see this called a "double extraction" or "dual extraction" process, which is what you'll come across with tinctures.
The resulting liquid is the extract that is used in the product for tinctures.
Below, you'll find our top picks for Mushroom Tincture Brands.
We base this on a variety of factors, including but not limited to, the company's cultivation practice, the extraction process, lab test results (if provided), source type (fruiting body, mycelium, or both), and the overall brand messaging.
We're all about educating consumers and appreciate the companies that provide their own resources for helping consumers learn.
---
Best overall mushroom tincture brand- RAINBO $40-$49 (10% savings with subscribe and save)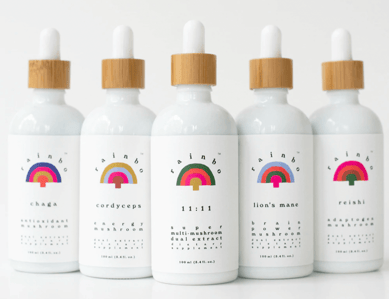 You know how they say you can't judge a book by its cover? Well, in Rainbo's case, the beautiful, well-thought-out design, is just the outside view of what we believe is the best mushroom tincture brand on the market.
All mushrooms are organic and sourced sustainably in Canada.

When it comes to quality, which is all we care about when we're reviewing brands, Rainbo shines.
They use 100% fruiting bodies in their mushroom extracts (except for one species). The fruiting body has been the most researched part of the fungi, and it's the cap and stem that you would think of when picturing a mushroom. Ex: At a grocery store, you're buying the fruiting body.
However, the mycelium, which is similar to a root system, has also been linked to different health benefits in certain species, like lion's mane.
And Rainbo points this out for consumers by addressing it and saying,
"Evidence points towards the highest concentration of beneficial compounds being found in the fruiting body (mushroom) structure of the fungus. Most of our tinctures are made with 100% end stage fruiting body. However, our Lion's Mane tincture is made from 90% fruiting body and 10% mycelium. It is the only mushroom where we include a portion of mycelial extract in the final tincture because the research shows that there are some beneficial medicinal compounds produced by the mycelium that are not produced by the fruiting body."
This is spot on and refreshing to know when a company has done their own research and taken the time to offer the best quality products available.
The full line of products covers any "effect" or "condition" you're looking to support.
Rainbo has you covered as a consumer.
We value that they provide research behind each mushroom species when determining which product may be best suited for each potential benefit. It shows us that they aren't simply marketing a product, but have done their own due-diligence, which is tough to sift through in the consumer-product world.
We also love that Rainbo offers some tinctures that are alcohol-free.
As we discussed, tinctures are made with a hot water and alcohol extraction process, and the final product of course has some alcohol content which you can obviously taste. To many, this shouldn't matter, as it's giving you the pure extract liquid without alteration or anything added.
But to some, that taste may not be enjoyable. Their alcohol-free tinctures, like the one seen below, "contain organic USP glycerine. Glycerine has a sweet taste and syrupy consistency. All 11 mushrooms are dually extracted via water and ethanol, however the ethanol is evaporated and glycerine is used to stabilize."
This is typically a more expensive process to evaporate the alcohol, but Rainbo offers it at the same price, which provides a nice option for consumers.
We also reached out to Rainbo. Typically, for most mushroom powder or capsule companies, we like to see lab tests offered on the site which list the percentage of beta-glucans and terpenoids.
When it comes to tinctures, there are very few, if any, that provide this. Rainbo responded, confirming they don't offer these test results, but that wasn't a big issue to us. The main reason is that this form of testing is still in its infancy. We do, however, expect to see companies like Rainbo start offering this as it becomes more popular amongst the industry. It is not required though for any supplement, medicinal mushroom extracts included, as they are not regulated by the FDA.
They did, however, provide the safety tests which all came back as they should. This tests for heavy metals and microbial count.

Overall, Rainbo excels across all categories. Consumer reviews on their site were strong as well. It's pretty amazing to read some of them. It makes you fully grasp the true potential of medicinal mushrooms and that we are just beginning to understand all they can offer.
Like this one from Aimee:
Age: 25-34

Gender: Female

Health Goal(s): Immunity, Stress Support, Energy, Brain Function, Gut Health, Sleep

Pleasantly surprised by the outcome

Review by Aimee A. on 13 Feb 2022

review stating Pleasantly surprised by the outcome

I started using the 11:11 tincture in early January 2022 just to try it out and see what kind of benefits I would notice. It's been a month and it has greatly improved my chronic migraines. I usually have 3-4 aura migraines a month and this past month, I've had 1 that barely lasted 30 minutes. It may be a small thing to some, but for someone that has dealt with migraines since I was 8, this is a huge deal! My overall stress levels and mood have greatly improved. I've already started a monthly subscription :)
That's just one of hundreds.
We highly recommend looking through them on your own time to see what others are saying.
Rainbo is the best mushroom tincture brand overall. The price is higher than many, and while we understand that consumers often look for the best deal, when it comes to medicinal mushrooms, and many other supplements, the cheapest product isn't often the best…it's likely the opposite.
Keep that in mind throughout your buying process!
It's also important to note that the company is committed to social issues and donates a percentage of every sale to various non-profits that you can select.
While this doesn't have anything to do with the actual product, it does speak volumes for the company, and in this day and age, is something we actively look for and applaud them on their efforts.
And last, but not least, the return policy. A crucial part to any brand review! Rainbo offers the following:
"To receive a full refund to the original payment method used, opened orders must be returned within 30 days of the delivery date.
We will gladly refund the purchase price of your unopened, returned product in full within sixty 60 days of the original purchase date."
A stellar company that is our best overall mushroom tincture brand.
---
Best value tincture brand - Life Cykel $34.95 ($27.96 or 20% off with subscribe & save)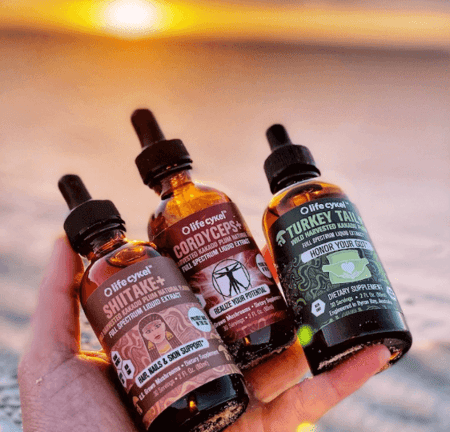 Life Cykel was one of the earliest movers in the mushroom tinctures industry. Started in 2015 in Australia, and since then, has exploded as a worldwide company, with a significant presence in the United States. That can be noticed by its 13,000+ reviews.
The company offers various products, but the tincture line is the most substantial. The company uses organic ingredients and most products are grown in Australia, while cordyceps, chaga and reishi extracts are grown and engineered in the US.
The company uses fruiting body and mycelium in its products, stating "Our liquid extracts are made using fruiting bodies and mycelium as we believe both have properties that are beneficial in this bioavailable form." We do agree that both have their benefits and understand the use of each. The company continues to say, "Our liquid extracts contain less than 1% of starch. This result proves that we can currently separate more than 99% of the grain parts (mainly starch) from the mycelium with our proprietary extraction process that has been lodged with the patent office."
Based on Life Cykel's knowledge in the space and the team that they have, we expected them to provide this information. Oftentimes, companies grow products on oats/grains/rice and if harvested incorrectly, you're left with a product that is primarily filler or starch. They have found a way to separate this, eliminating this concern for consumers.
We also like that all of their products, besides cordyceps which they say is grown on organic grown rice, are grown on hardwood sawdust, a well known way to cultivate.
Their dual extraction process also checks off that box for us in order to make both beta-glucans and terpenoids bioavailable.
As far as the product line goes, Life Cykel, like Rainbo, has something for everyone.
Unfortunately, the company does not offer a blend, but this doesn't take away from the offering it provides. Each mushroom species has its own potential benefits and Life Cykel dials in on each.
We also like the addition of Kakadu Plum. Mushroom tinctures can be bitter and have a strong alcohol taste. As stated by the company, "the native Australian Kakadu Plum infused within the mushrooms brings a sweet taste to the extracts while enhancing the effect of the mushrooms."
"Australian native Kakadu Plum, known to have the highest content of vitamin C gram for gram than any other fruit in the world."
You can tell that Life Cykel has spent time developing its products and goes the distance to make sure that people enjoy taking them, from the quality to the flavor. For this, we applaud them.
Life Cykel, like other tincture brands, does not test for beta-glucans or terpenoids. Directly on their site, you can see why.
"Until we can get precise laboratory results on beta-glucans content, we have decided to not promote them on our extracts."
We do expect this to change as other companies start doing it, but until then, it's not of big concern for us. Again, they, nor any other company, needs to do this, but we appreciate the transparency and are on the lookout for someone that offers this.
Based on the company's cultivation practice, its strong presence in the mushroom extract community, and its countless reviews, Life Cykel has earned its spot in our best mushroom tinctures list, and the value is pretty unbeaten.
While $34.95 may still feel expensive, when consumers subscribe, it quickly drops to just under $28, which is less than $1 per day, given the 30-serving size bottle and their recommended dosing.
At that price point, value exceeds all else, and is backed with a quality product that is popular worldwide.
As always, we look at the return policy which states, "The company offers a money-back guarantee if you are not completely satisfied within the first 7 days of receiving it."
The return policy isn't the best we've seen, but you're also getting a very competitive price, which is what a value play is all about.
---
Best transparency in testing tincture brand - MUSHROOM REVIVAL ($34.95, $27.96, or 20% off with subscribe and save)
When it comes to evaluating brands in any health/wellness category, but particularly mushrooms, it's important to always make sure that they are an honest company. Too much of consumer product relies on aggressive, sensational marketing, without any substance to back up claims.
Mushroom Revival offers a breath of fresh air into this category for a multitude of reasons. For one, they have an excellent podcast that is all about educating consumers. They bring on well known industry experts and mycologists, and you can tell that their passion is mushrooms and they are looking to spread it throughout the world.
The company is based in Massachusetts and is 100% USDA certified organic, Vegan, Gluten Free, KOF-Kosher Certified, NSF Certified GMP Compliant. This is a big plus for us as many can claim their company is organic, but getting that seal on their products is a big deal and shouldn't be overlooked. It's costly, but worth it and we are glad they can provide a product that has this certification.

They are also eco friendly, planting a tree for every purchase. To date, Mushroom Revival has said they have planted over 43,000 trees! We love this.
The company also does a double/dual extraction and uses 100% mushroom fruiting bodies. "No mycelium on grain, no fillers, no fluff. We are completely transparent about our labeling, and back up all of our decisions with hundreds of peer reviewed scientific papers."
Not only that, but the company states on their website, "All our products are third-party lab tested, and we're always transparent with the results."
And for ALL products, they do just that, posting the safety tastes AND beta-glucans and terpenoids.
You can see an example here: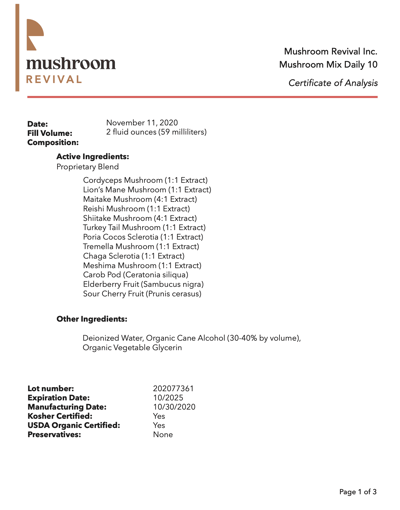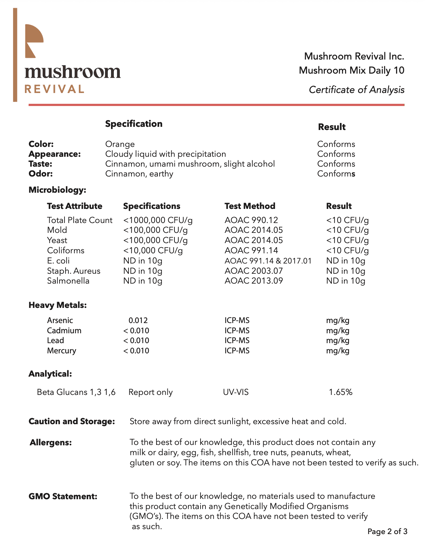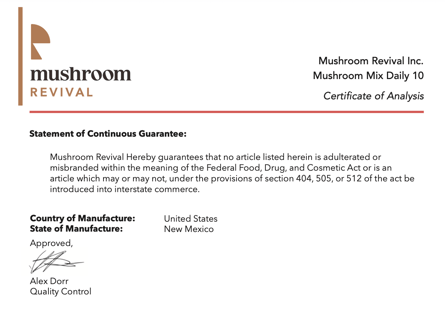 While the beta-glucan count is rather low in this product, this could be due to testing variances. However, the fact they openly offer this is something that very few, if any others do, and it deserves to be mentioned.
As far as a product line goes, they offer tinctures, powders, capsules, and say that gummies are coming soon. They offer just about everything!
For tinctures, like our other brands, each is designed for a specific effect or potential health benefit to support.
Mushroom Revival is a relatively new company to the field, but the commitment to transparency for all consumers as well as an in-depth educational section and a research-focused podcast, you can clearly see that they are on a mission to help others find the medicinal mushroom products best suited for their own needs.
Their pricing is competitive, and they also stand by their products. This is a key part to the review. Directly on the site, the company states:
We provide a no B.S. money back guarantee. Seriously, we just want you to be healthy and happy with our products.
Our customers' satisfaction is always our #1 priority. We are always here for you.
100% free mushroom-focused podcasts, blogs, videos and e-books to inspire and revive the culture around mushrooms.
For that, as far as transparency goes and the commitment to make sure consumers are educated, they stand at the top in this category.