Remeday is proud to announce the launch of their country-wide interactive mushroom farm map. The map, which features almost 400 mushroom businesses, allows users to search by mushroom type, style of business, offerings, and more.
"We realized there wasn't a great way to search for mushroom businesses," said Remeday's co-founders. "As mushrooms become increasingly popular in the US, we wanted there to be an easy way for people to search for and support local mushroom farmers."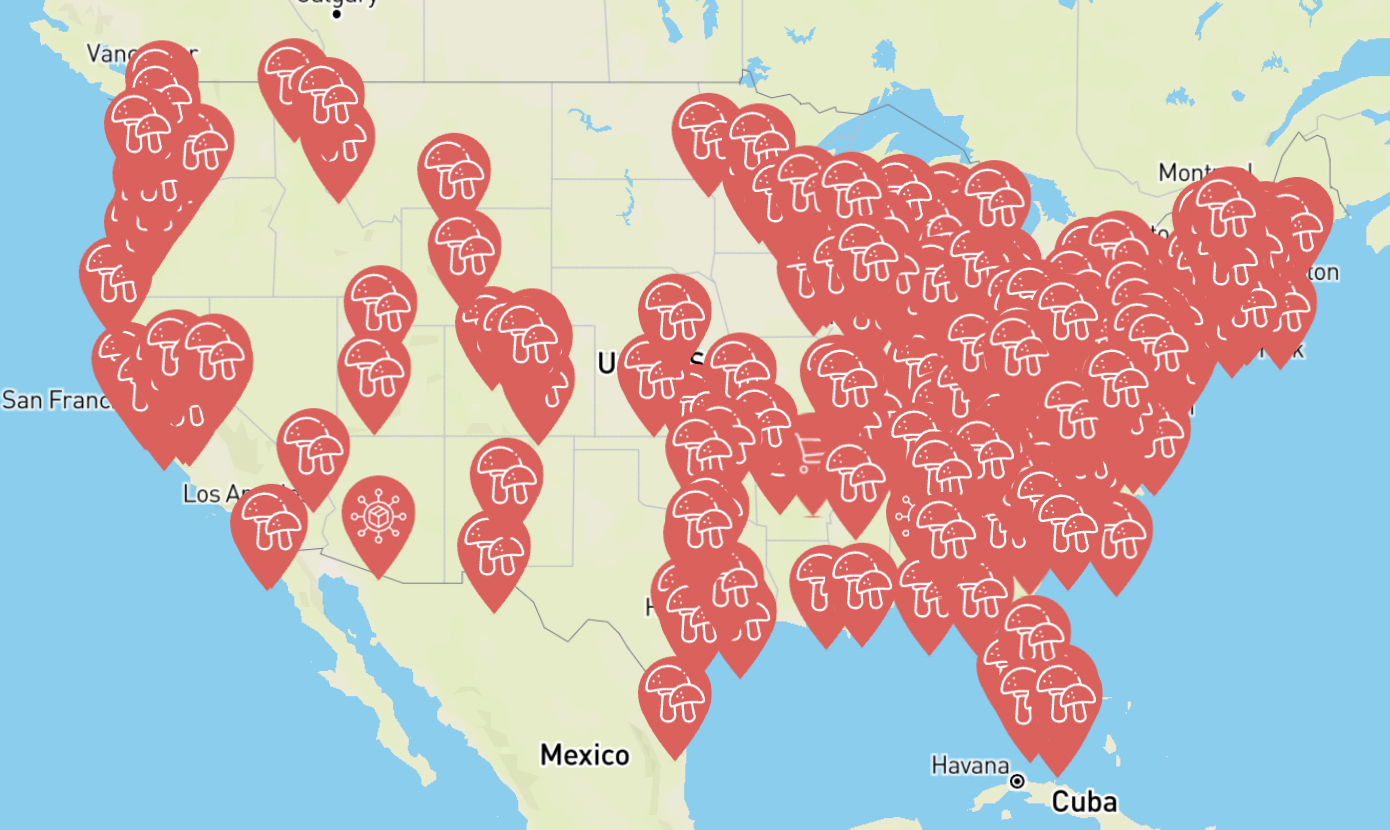 But the mushroom directory isn't limited to mushroom farms, although they make up most of the listings right now. Remeday plans to expand its map coverage to markets and retailers, distributors, large supplement brands, and eventually, medical services for psychedelics.
Remeday used a variety of sources to obtain the map's business details, including mushroom forums, Google sources, and social media sites like Facebook and Instagram.
Remeday's team said it took hundreds of hours and several months of work to complete the database's directory details and get the map developed.
"We're hoping we can reach the business owners over the next couple of months so that they can update their listings with us," they said.
Remeday is an educational mushroom site whose ultimate goal is to help everyday people access information about mushroom benefits, research, and emerging legislation. On Remeday's site, you can learn about gourmet and medicinal mushrooms like reishi, chaga, and cordyceps, as well as new research on psychedelics.
The company does not directly sell any mushroom products. Instead, it acts as a marketplace hub to connect potential buyers with the unbiased information they need to make an informed purchase.
If you're interested in having your mushroom business listed, or if you want to update your business' current listing, just fill out the form here.
Business Requirements to be Listed in the Map:
1. A Business Website
Websites help folks understand more about your business. They also help us understand which businesses are legitimate. (Unfortunately, there are a lot of scammers out there!) A Facebook page that's been live for some time can also qualify as we understand not everyone has the means or knowledge to manage a fully-functional site.
2. Contact Information
People may have questions about your products or services. In order to ensure they're able to get in touch, we'd like to make sure your site includes an email address, contact form, or phone number.
3. Mushroom Information
Your site needs to have clear information about the types of mushrooms you produce or sell, your business hours, and all of your products and services (farm tours, grow kits, etc). This helps us to create accurate filters for the map.
4. A Physical Address
We know a lot of people run their businesses online. But in order to keep the functionality of our map, you'll need to list a physical address for your business. If you have an online business you'd like featured, contact us today! We're always looking to feature awesome businesses on our educational blog.
Read the site's current requirements on their enrollment page here.