If you decide to purchase a product from one of the links on our site, we may earn a small affiliate commission from the retailer (at no additional cost to you). We only feature products we would recommend to friends & family. Your purchase through an affiliate link helps us keep this site up and running! 🍄
Turkey tail mushroom coffee is the newest mushroom coffee arriving on the scene.
Mushroom coffee isn't a new phenomenon. In fact, mushrooms have been added to tea in traditional Chinese medicine for more than 2,000 years.
You may have heard of cordyceps coffee. Or even chaga coffee. But what is turkey tail coffee? How does it differ from other types of mushroom coffee? And why should you try it?
In this article, we'll give you an unbiased look at what turkey tail coffee is, how you can make it at home in just a few easy steps, and what the potential health benefits are.
Let's get to it!
What's the big deal about turkey tail mushroom coffee?
Turkey tail coffee is coffee that's supplemented with a fungus called Trametes versicolor, also known as Coriolus versicolor, which grows on decaying oak trees.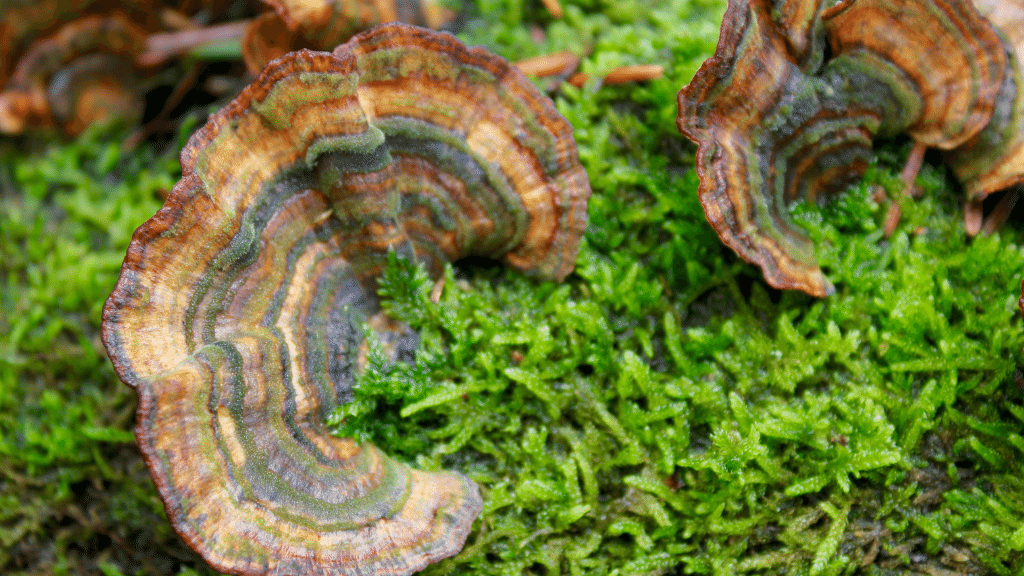 A lot of people love turkey tail mushroom coffee, and it's easy to see why; this tasty beverage has a multitude of health benefits, including reducing the risk of cancer and heart disease, boosting brain function, strengthening your immune system, and protecting against the effects of aging.
First, let's cover some of the basics:
What is turkey tail mushroom coffee?
Turkey tail mushroom coffee is coffee that has been infused with turkey tail mushrooms. There are several ways to combine coffee with turkey tail. You can purchase a commercial product with it already infused. Or, you can make a cup of turkey tail coffee at home using mushroom powder or tincture.
Combining mushrooms with warm beverages isn't a new phenomenon.
The history of mushroom tea dates back as far as 600 BC. In the 15th century, the Ben Cao Gang Mu Compendium of Materia Medica - a comprehensive book on traditional Chinese medicine, listed turkey tail mushroom tea as beneficial to both vital energy (Chi) and the spirit (Shen).
Coffee is significantly more popular in the United States than tea.
So it was only a matter of time before mushroom tea became mushroom coffee.
What are the health benefits of turkey tail mushroom coffee?
There are many potential benefits to turkey tail mushrooms. And these aren't diminished by adding them to your morning brew.
Some of the potential benefits to taking turkey tail mushrooms include:
Immune boosting properties
Anti-tumor and anti-cancer compounds
Improved gut health
Antibacterial properties
Increased energy
And much more!
Check out our guide to the health benefits of turkey tail mushrooms here.
Medicinal mushrooms are packed with numerous nutritional benefits as well. Mushrooms are high in fiber, vitamin D, and other nutrients.
But the real power of turkey tail mushrooms comes from their beta-glucan contnent.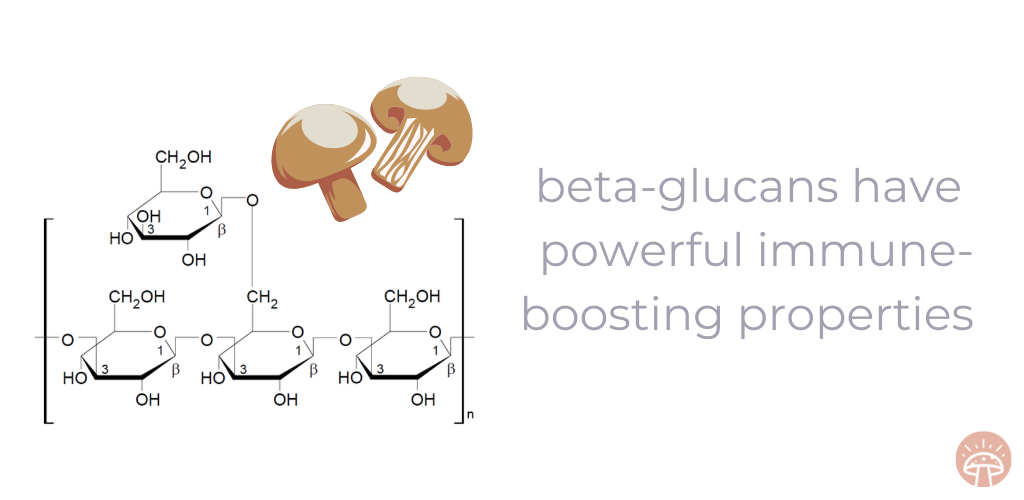 Beta-glucans are being studied for their powerful immune and anti-tumor properties. In fact, PSK, a medicinal compound found in turkey tail mushrooms, is already being used as a cancer treatment drug in China.
Turkey tail mushrooms aren't the only mushrooms that are high in beta-glucans. But they are definitely one of the highest.
Here's how turkey tail mushrooms stack up to other mushroom types:
| | |
| --- | --- |
| Mushroom Species | Cap Beta-Glucan Content (%) |
| Turkey tail | 60.8 |
| Reishi | 54 |
| Maitake | 26 |
| Shiitake | 19.8 |
| Lion's mane | 10 |
Check out our complete guide to fungal beta-glucans if you want to learn more about this powerful compound!
Now that we understand some of the potential health benefits, let's talk about the different ways you can make turkey tail coffee at home:
How to make turkey tail coffee
There are four ways to make turkey tail mushroom coffee at home:
Buy a commercial turkey tail mushroom coffee product
Buy turkey tail mushroom extract powder and add it to your coffee
Buy turkey tail mushroom tincture and add it to your coffee
Forage for mushrooms and make your own powder to add to your coffee
Let's dive into each of these options and discuss the pros and cons of each method.
1. Commercial turkey tail mushroom products
This is the easiest way to make turkey tail mushroom coffee as much of the preparation is already done for you. Simply buy the coffee and brew it as you normally would. However, there are some important things to keep in mind when buying turkey tail mushroom coffee products.
Not all products are created equal: There is very little regulation in the supplement industry. Which means that companies aren't required to share with you their mushroom sourcing, growing methods, extraction process, or really any details about the supplement's benefits.
That's why it's critical to buy from a trusted brand. (And not just one that has great marketing.) To get maximum health benefits, look for a coffee product that uses 100% fruiting body, is transparent about their sourcing and extraction methods, and shares COA or third-party lab test results.
Here at Remeday, we've done extensive research on brands that showcase excellent quality standards for the mushroom industry. Here are some of our top commercial choices for the best turkey tail mushroom coffee: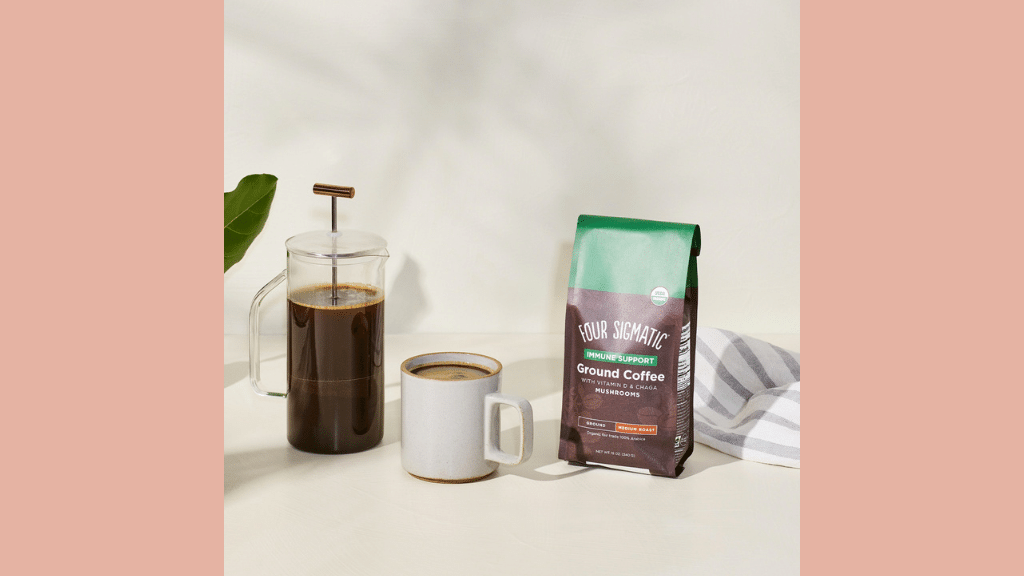 If you love the taste of coffee but want all the benefits of mushrooms, this is a great option for you. Four Sigmatic is doing everything right.
They use 100% organic fruiting bodies. And they also extract their mushroom powder for maximum bioavailability.
Not to mention, users really love the taste of this coffee. If you love coffee as much as we do, taste is just as important as the potential health benefits! This is a great choice if you're looking for maximum turkey tail content in your commercial coffee. Many other brands include turkey tail in with a variety of other mushrooms.
That's not necessarily a bad thing! But if turkey tail is your mushroom of choice, then this is the best option for you.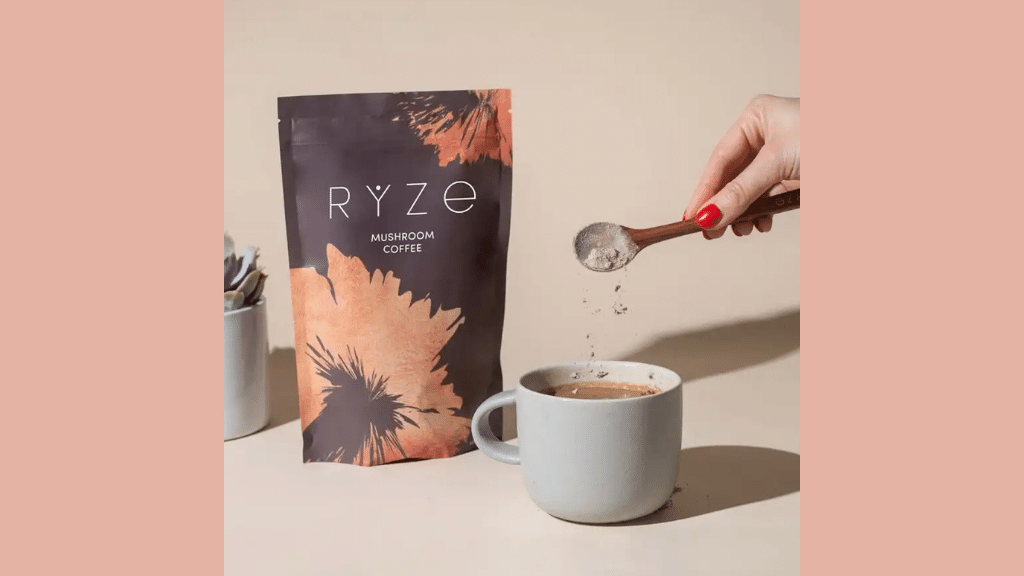 Ryze is a small but mighty mushroom coffee brand. Unlike Four Sigmatic, Ryze blends a handful of functional mushrooms together including turkey tail.
Ryze is also an instant coffee brand. All you do is mix a serving of powder with water and enjoy.
This is a great choice for those looking to experience other medicinal mushrooms as part of their coffee blend. Not only does this coffee taste great, but they're committed to excellence in their products with 100% fruiting body and dual-extraction.
2. Buy turkey tail mushroom extract powder and add it to your coffee
If you want a bit more control over your dosage of turkey tail mushrooms, then this is the ideal option for you. Not to mention, using powder grants you access to significantly more brands, sourcing options, and may enable you to shop locally for product.
When buying turkey tail mushroom powder, make sure you check that your company is using 100% fruiting body and shares their extraction process. Mushroom extraction may give you a bit more benefit than powder alone. Some of the best turkey tail mushroom powder brands include:
Real Mushrooms Turkey Tail Powder
We love RealMushrooms' brand for so many reasons. They continue to be a leader in quality mushroom supplement products because of their commitment to transparency and quality. Their turkey tail powder is 100% organic, hot water extracted, and boasts more than 30% beta-glucans (that's pretty darn high.)
FreshCap Turkey Tail Powder

A Canadian company leading the way in video mushroom education. We love their extract powders for many of the same reasons we love RealMushrooms. Not only are they using 100% fruiting bodies, all of their products are third-party tested for quality and safety.
How to make turkey tail mushroom coffee with mushroom powder
First, brew your morning cup of coffee how you normally would
Measure and add a serving of turkey tail mushroom powder to your mug following your package directions. If none are listed, ½ teaspoons is usually a safe dosage amount.
While your coffee is still very hot, slowly pour your coffee over the mushroom powder
Stir your powder in
Allow it to steep for 3-5 minutes
Enjoy!
3. Buy turkey tail tincture and add it to your coffee
Another great option is to use turkey tail mushroom tincture instead of powder. This option is ideal for those who want to hide the taste of tincture in their morning coffee. Tinctures are convenient, effective, and a trusted delivery method for mushroom supplements. But not everyone loves taking it directly.
When searching for trusted turkey tail tincture brands, look for dual extraction, 100% mushroom fruiting bodies, transparent extraction processes, and COA or lab testing.
Here are some of the turkey tail tinctures we love:
Rainbo Turkey Tail Tincture
You simply won't find a better turkey tail tincture on the market. Not only is Rainbo committed to community investment and social justice, but they take their product quality very seriously. While this brand is a bit more on the expensive side, they are committed to the best quality product.
Life Cykel Turkey Tail Tincture

Life Cykel is a great option if you're looking for tincture made from wild-sourced US-based mushrooms. We love this brand and use it oursleves!
How to make turkey tail mushroom coffee with tincture
First, brew your morning coffee like you're used to doing
Measure out a full dropper of tincture
Add it to your mug while your coffee is still very hot
Stir
Enjoy!
DID YOU KNOW? Turkey tail is being studied as a potential treatment option for those with HPV.
4. Forage for turkey tail mushrooms to add to your coffee
This is a great option if you are able to score some wild turkey tail in your backyard or from your local farmer's market!
There's really nothing like making your own turkey tail mushroom powder for uses in everything from teas, soups, stews, broths, and of course - coffee!
To learn more, check out our complete guides to drying mushrooms and grinding them at home.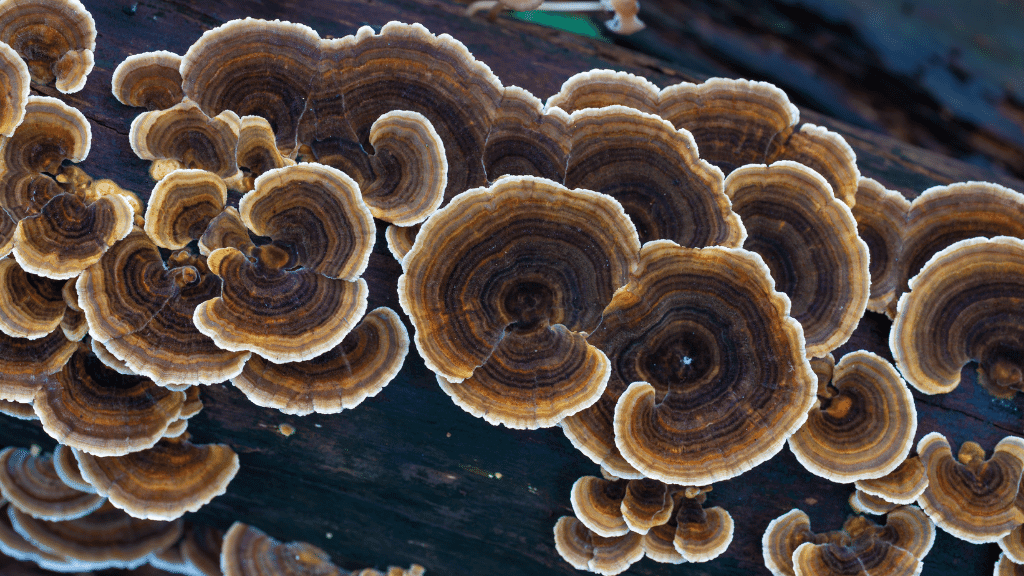 If you're looking for a quick overview of how to dry and grind your turkey tail for coffee, here's how to do it:
Prepare your turkey tail mushrooms by gently brushing off any debris or dirt with a veggie brush. An old tooth brush works, too. Note that there is no need to wash your mushrooms.
Cut them into ¼ inch pieces and add them to your food dehydrator until all the moisture is removed. For other methods on drying your mushrooms, check out this guide.
Once completely dried, they're ready to be ground into powder. Use a coffee grinder or food processor to grind your mushrooms into as fine of a powder as possible with your home tools. For other methods to grind your mushrooms, check out this guide. Your mushroom powder is likely to be chunkier than a commercial version. Store your mushrooms in an air tight glass container, like a mason jar, for up to a year. Make your coffee as you normally would.
Measure out 1 gram of mushroom powder. Depending on your chunk sizes, this is likely to be around a teaspoon.
While your coffee is still hot, add your mushroom powder and stir
Allow it to steep for 3-5 minutes
A few tips to making turkey tail mushroom coffee with home powder
Turkey tail mushrooms are safe to consume. But if you're not thrilled about tiny mushroom chunks floating in your coffee, you'll want to take the extra step to strain them out.
Using a French press is a great option for foraged turkey tail powder, as it allows you to keep any mushroom chunks from floating in your coffee. If you're using a french press, combine your ground coffee and mushroom powder together. Then, brew your coffee as you normally would.
How does turkey tail coffee compare to cordyceps coffee?
Cordyceps coffee took the mushroom market by storm. And that's because cordyceps offers a lot of potential health benefits as well.
Cordyceps is thought to help improve athletic recovery, boost immunity, and increase energy. Which makes it a natural supplement to add to coffee. Learn more about the benefits of cordyceps coffee here.
Turkey tail is significantly higher in beta-glucans, which makes it a slightly better choice for those who are looking to supplement for specific health conditions like hpv, cancer, and more.
That's why many mushroom coffee brands blend medicinal and functional mushrooms together!
We hope you enjoyed this guide to making turkey tail mushroom coffee at home. Know of a brand that we missed and want to be featured? Contact us today! We're always excited to review new brands on our site.