If you decide to purchase a product from one of the links on our site, we may earn a small affiliate commission from the retailer (at no additional cost to you). We only feature products we would recommend to friends & family. Your purchase through an affiliate link helps us keep this site up and running! 🍄
Are you looking to bring the joy of fungi to your Thanksgiving table? Then you've come to the right place!
We've crawled the internet for some of the BEST mushroom side dish recipes for Thanksgiving and compiled them here for you.
In this article, we'll cover what some of the best gourmet mushroom types are, some of the best recipes, and tips for preparing and storing your mushrooms.
The Best Thanksgiving Mushroom Recipes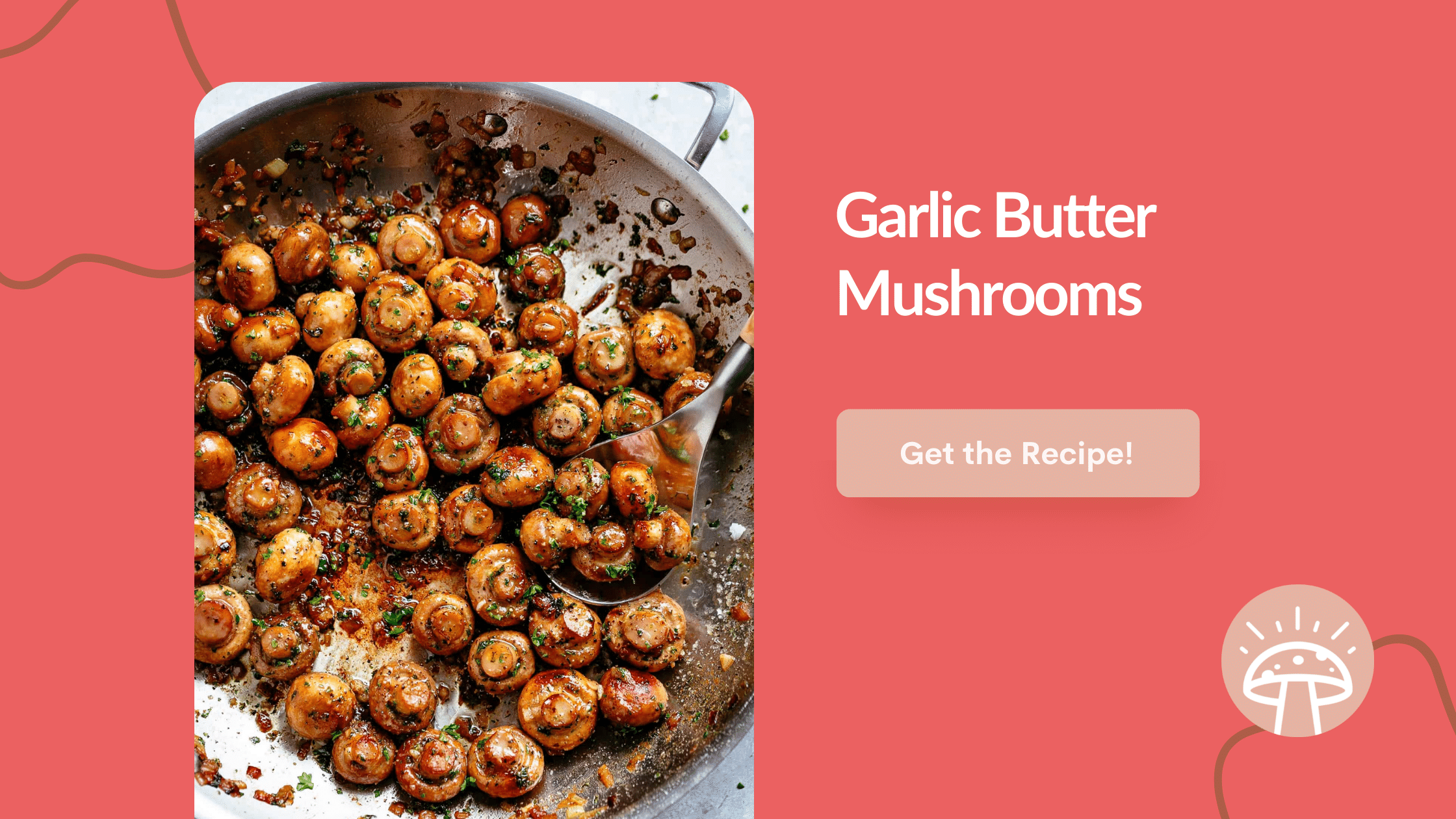 A delicious gourmet staple, this garlic and herb butter recipe is not only easy and fast, but it's a signature side dish in many restaurants. This is the ideal way for you to get the most bang for your buck. This easy recipe can utilize a basket or two of your basic agaricus (white button, cremini, or portobello) mushrooms.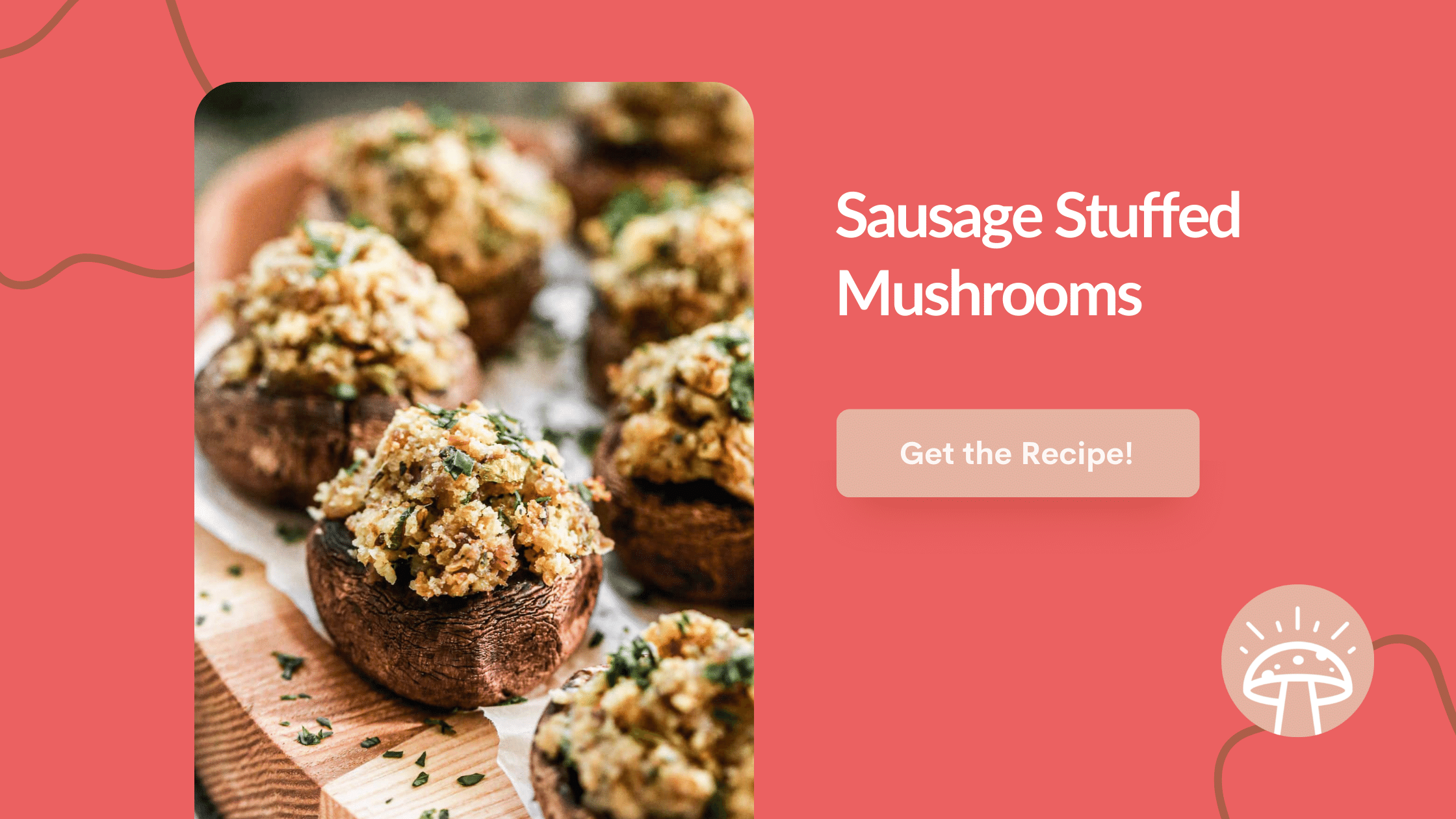 Keep your guests satisfied while you cook that turkey and try these easy (and absolutely delicious) sausage-stuffed mushrooms! Stuffed mushrooms are a Thanksgiving favorite at our house. Best of all? They're pretty easy to make and can be prepared the day before for day-of heating. Stuffed mushrooms are sure to fly off your table this year!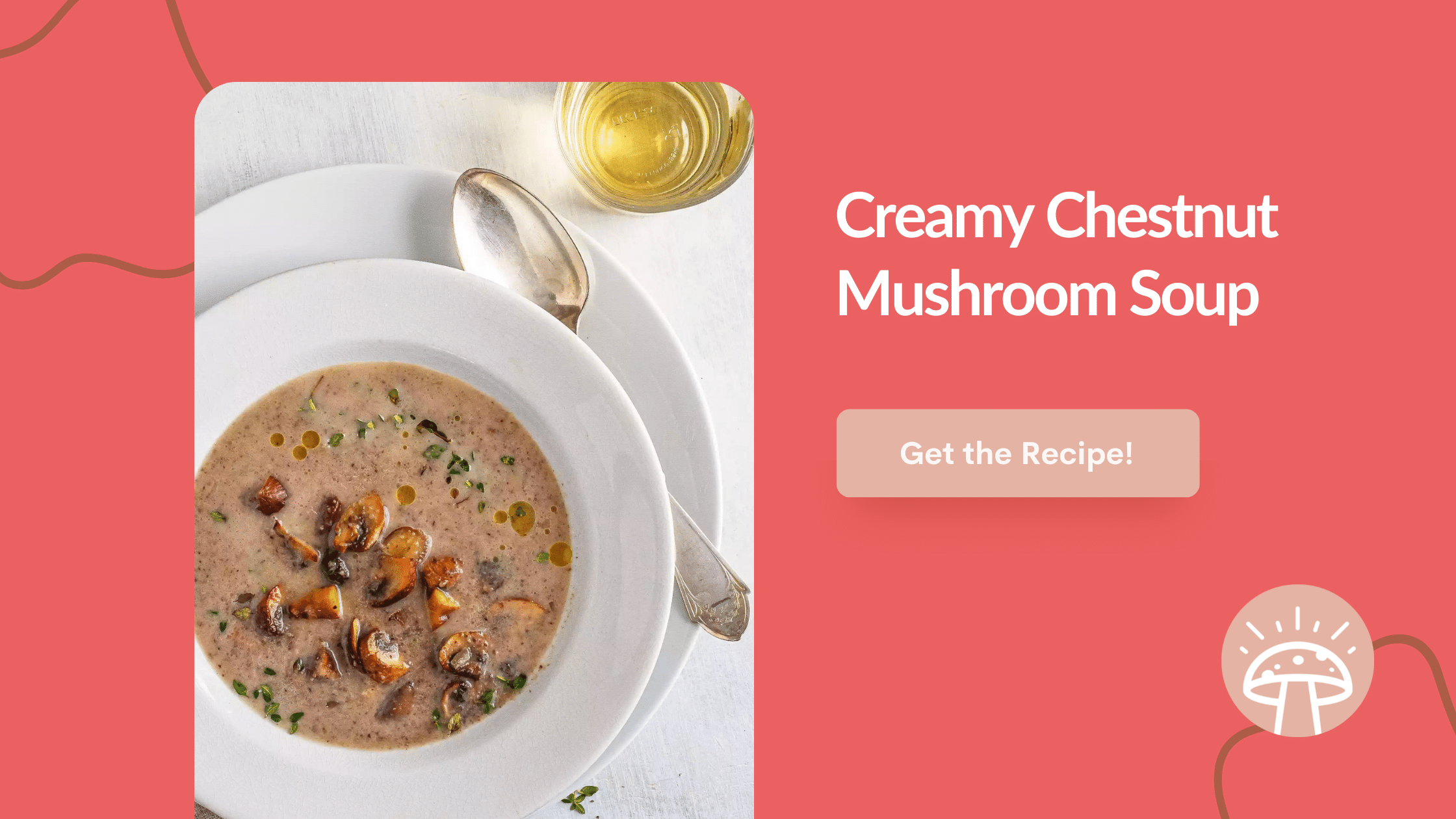 If you've never tried chestnut mushrooms, this is the recipe that will convert you into a chestnut-lover for life. Trust us. Even if you've never made homemade soup before, you can impress all your guests with this super-simple recipe. This soup brings out the earthy and umami flavor of chestnuts while focusing on aromatics and herbs for that spicy holiday feel you're craving.
This is the recipe for ULTIMATE beginners. Best of all, you don't HAVE to use shiitake mushrooms in this recipe. Why not go for a handful of oysters or sliced lion's mane instead? Or better yet, try mixing a few varieties together! This is the perfect side dish to bring if you're a guest for Thanksgiving and want to make sure you bring something impressive AND unique.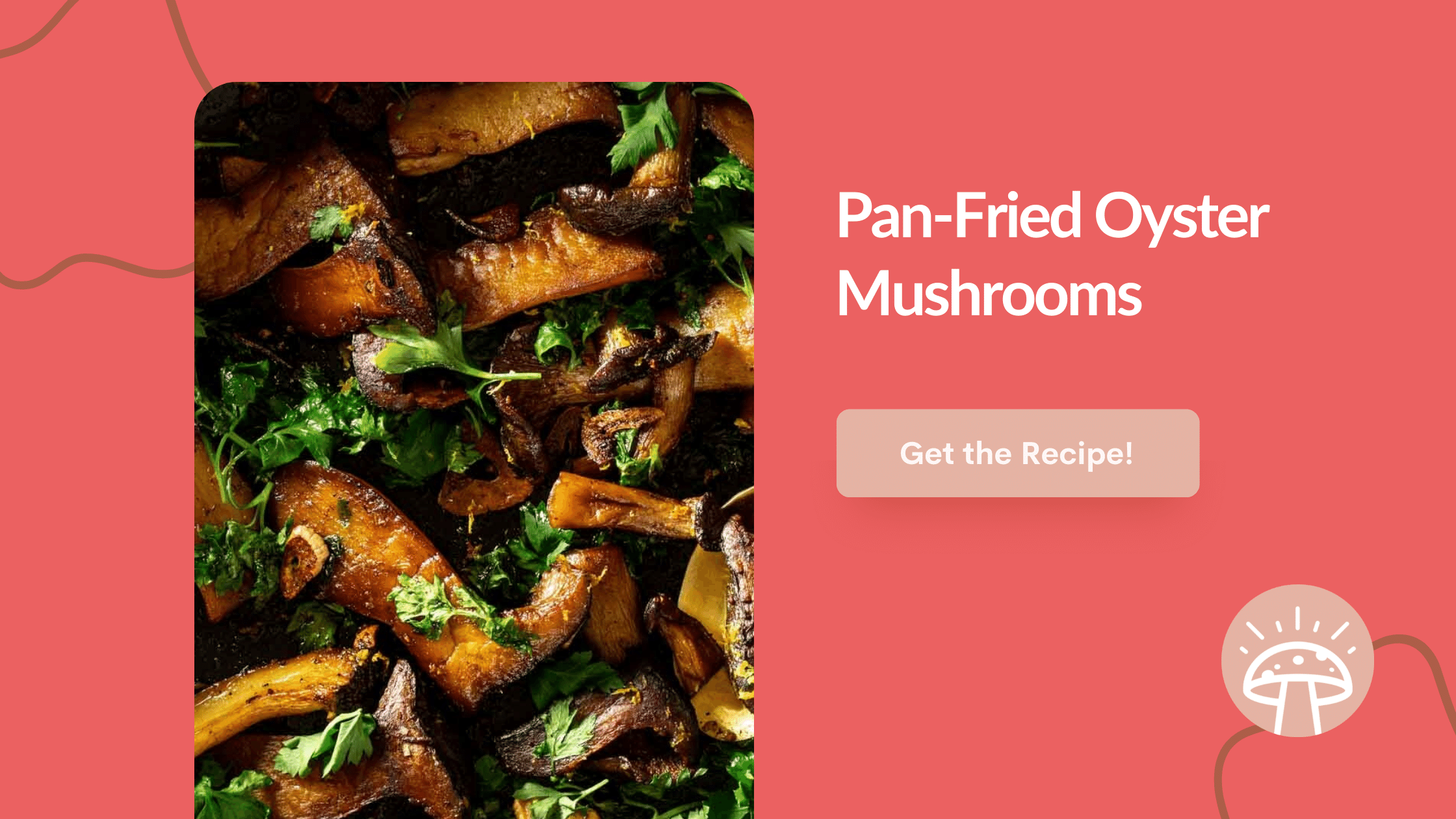 For the oyster lovers out there, this garlicky, herby, spicy one-pan dish is sure to impress your family and friends. Plus, it's easier than you think to get a nice carmelized finish on the mushrooms you love. There's a reason pan-fried mushrooms are a staple in so many restaurants. This unique take on the dish is perfect for beginners.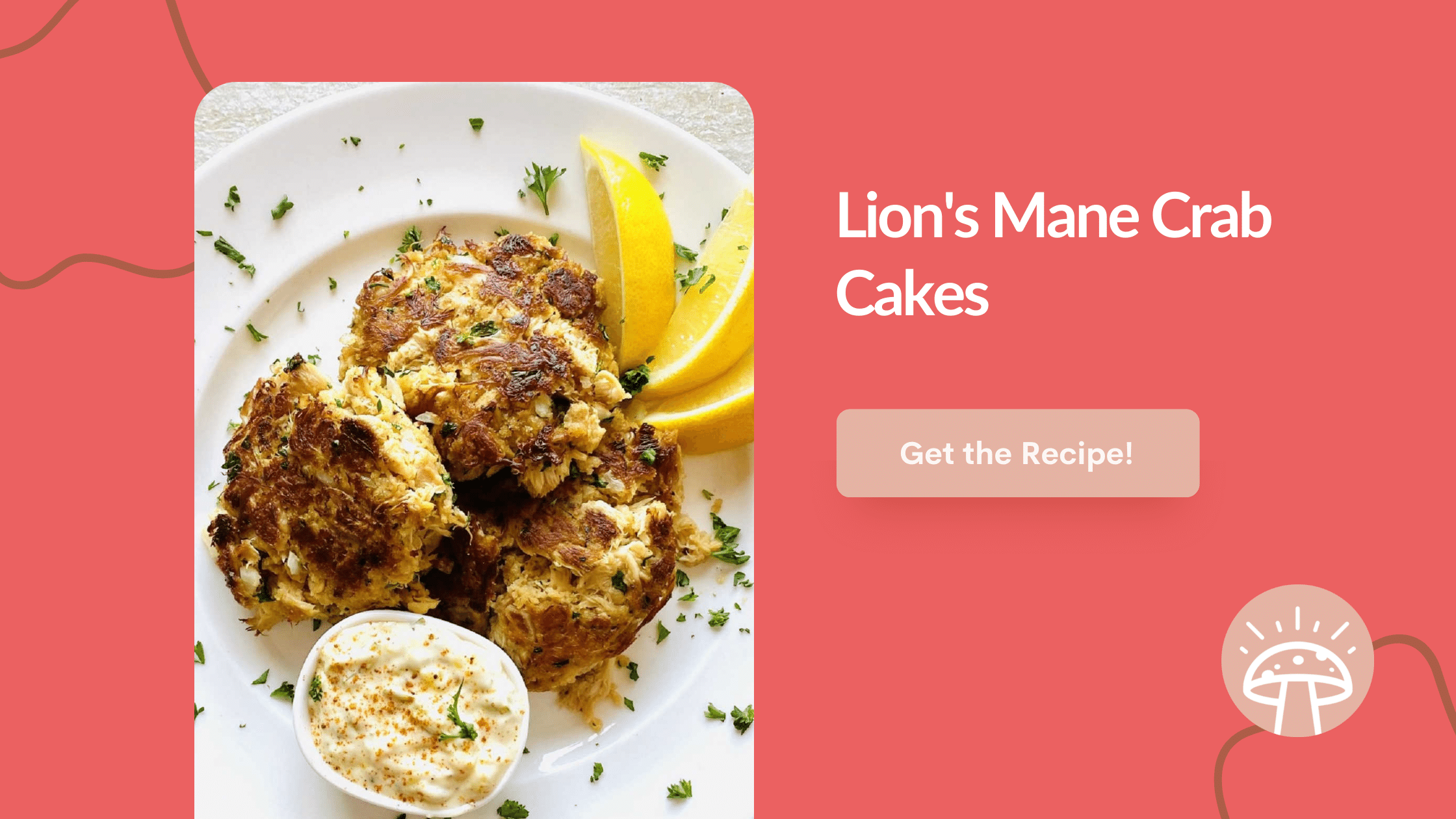 Buying crab?! In this economy!? If you're looking to wow your guests, then vegetarian lion's mane crab cakes are the dish for you. This recipe is guaranteed to have your guests saying, "there's MUSHROOMS in this?". The meaty texture of lion's mane really makes this dish feel hearty and delicious without the need for buying real crab.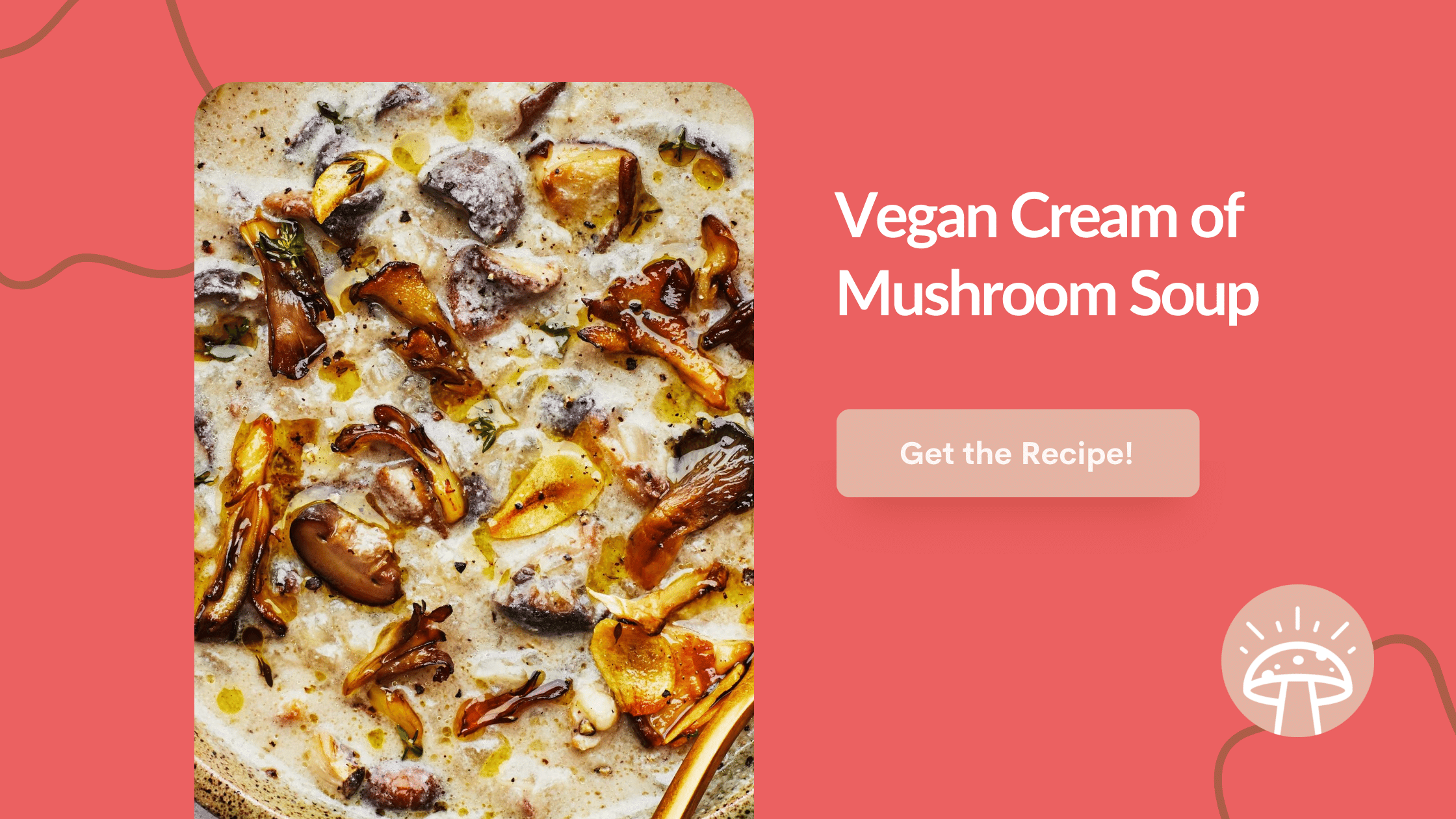 The ideal dish for the vegans (and non-vegans) in your life. Vegan cream of mushroom soup is one of the more challenging recipes on our list. But it's worth the investment to impress your guests with this hearty and filling vegan starter.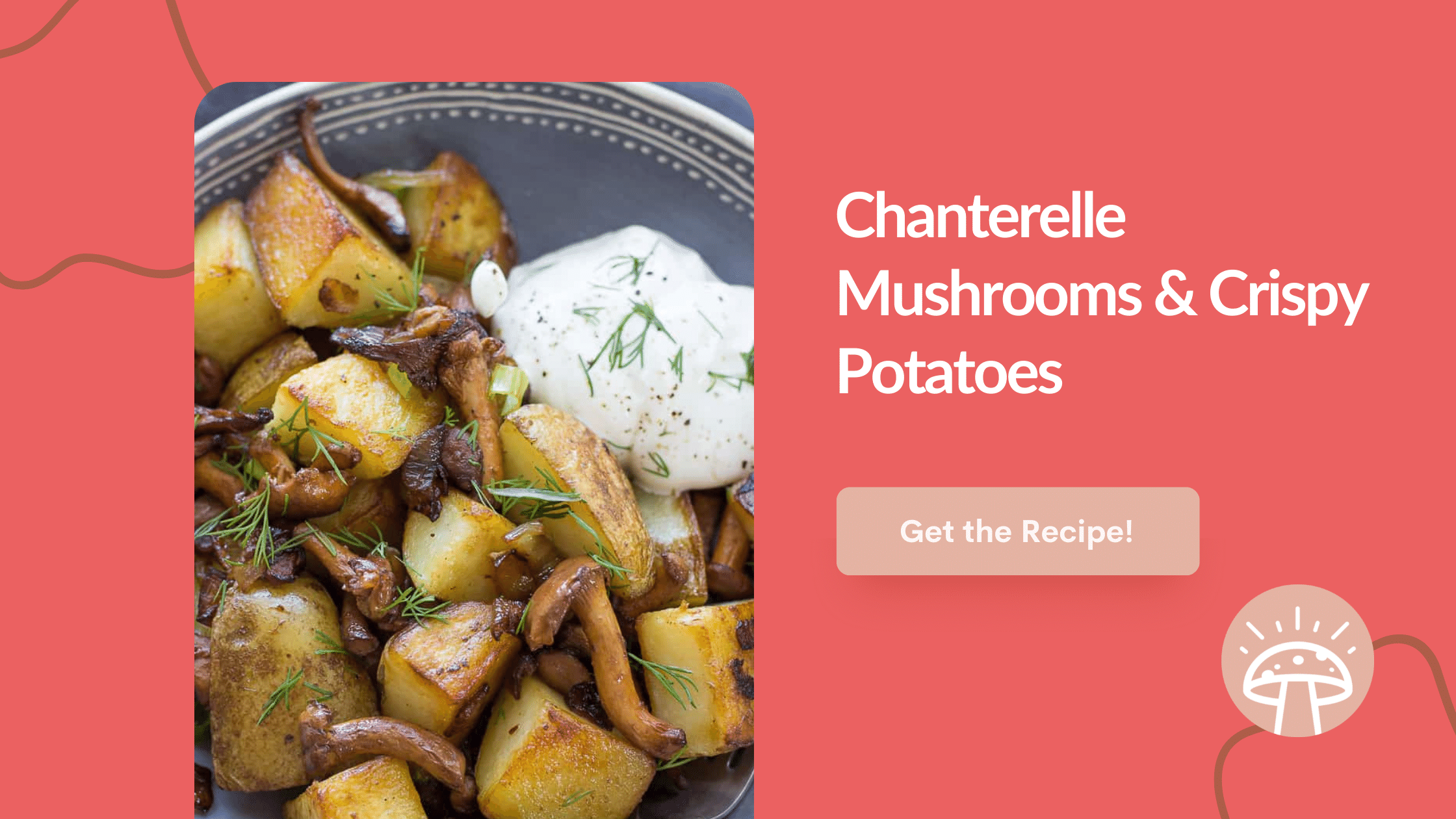 Want to sneak mushrooms into a normal Thanksgiving side dish? Then you'll absolutely LOVE this chanterelle and potato recipe. This dish is the perfect complement to the potato lovers in your life and the best alternative to mashed potatoes out there.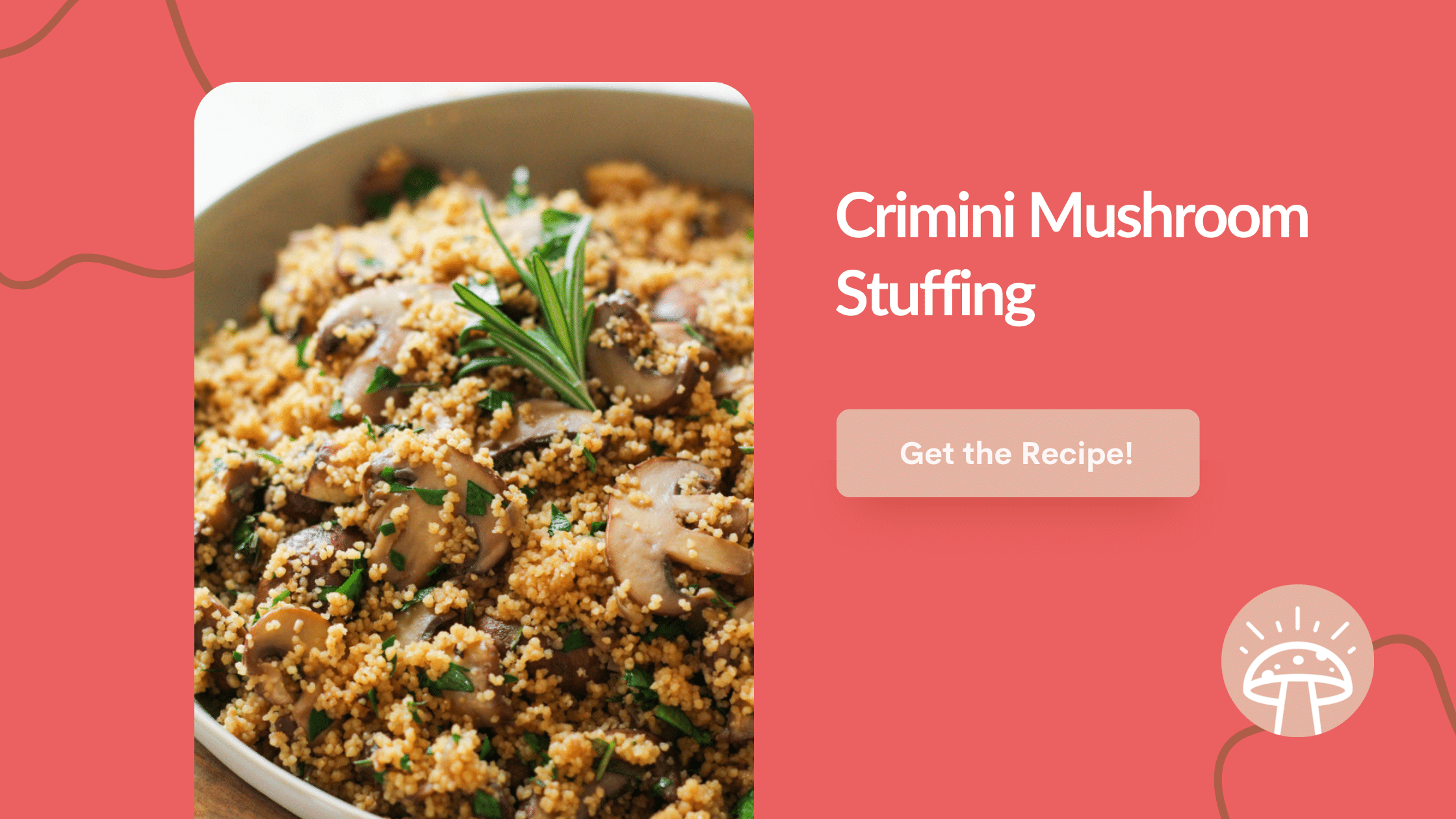 Want a fresh take on the traditional Thanksgiving stuffing side dish? Then this easy mushroom recipe is for you. Best of all, it uses the button or crimini mushrooms you're likely to find in the supermarket down the road from you. This healthy and delicious side is sure to impress.
Looking for more mushrooms for Thanksgivng inspiration?
Here are some of our other favorite Thanksgiving mushroom recipes and dishes from across the web:
What kinds of mushrooms can I use for Thanksgiving recipes?
For the most part, you can substitute any gourmet mushroom in when your recipe calls for mushrooms. The most popular gourmet mushrooms for Thanksgiving dishes include:
Button mushrooms
Portobello mushrooms
Shiitake mushrooms
Maitake mushrooms
Chanterelle mushrooms
Oyster mushrooms
Enoki mushrooms
Morel mushrooms
Porcini mushrooms
Lion's mane mushrooms
Chestnut mushrooms
Pioppini mushrooms
And more!
Each mushroom type has its own unique flavor and texture profile. But for the most part, they will cook the same in your recipes. We put together a complete guide to gourmet mushrooms here. If you're new to mushroom cooking, this might be a good place to start.
Where can I buy gourmet mushrooms?
If you're looking for specialty mushrooms beyond your white buttons, you may need to venture outside of your local supermarket to a specialty store. Lucky for you, there are many places that grow and sell gourmet mushrooms!
Local mushroom farm:

You may not know it, but there are high chances that if you live in a rural area, you may have someone that is growing gourmet mushrooms right under your nose. Whether it's a farm that focuses solely on mushrooms or a nearby farmer who grows every vegetable, fruit, and fungi they possibly can, local farms are a wonderful place to source gourmet mushrooms from. Check out our interactive mushroom farm map

to find a mushroom farmer near you.
Specialty supermarket:

If you're in a more urban or suburban area, perhaps you have access to a specialty supermarket - this could range from your local co-op to an Asian grocery store. These grocery stores will likely feature a range of mushrooms and may even source them from a farm located in your state. All you have to do is Google "specialty grocer or supermarket near me", find the best option, and ask one of their staff about the store's gourmet mushroom selection.
Farmer's market:

Support your region's local farmers by heading out to the nearest farmer's market near you. Simply Google "Farmer's market near me" and chances are you'll find an amazing option where you can explore your local farmer community's mushroom selection.
Grow them yourself:

A less common, but super fun and educational option for sourcing mushrooms is to grow them yourself! Of course, this will take some time and involves some hands-on work, but if you're up for the challenge, we say power to you. Gourmet mushrooms can be grown indoors from the comfort of your home by purchasing a

grow kit. If you take this route, get in touch to let us know how it goes for you! We're always excited when people decide to be a fun guy and grow their own fungi.
Thanksgiving Mushroom Storage Tips
So you've just brought home your fresh mushrooms from the market but you're not ready to cook them just yet. Fear not! We've compiled a complete mushroom storage guide here. Below are some of our top storage tips:
Tips for storing mushrooms in the fridge:
Do not store your mushrooms in the crisper drawer. This leaves your mushrooms vulnerable to excess moisture, which can be detrimental to them.
Avoid placing mushrooms near foods with strong aromas, as they will absorb them.
Do not stack food on them, as it will squish them and make them mushy and unappetizing.
Here are some of the most common methods to store mushrooms in your refrigerator:
Paper bag:

Generally one of the most favored methods of storing mushrooms, this method does a fantastic job of keeping moisture away from your mushrooms and maximizing their shelf-life in the refrigerator. According to a small home experiment, the most effective method for long-term storage of mushrooms is to line a paper bag with a paper towel and then place the. mushrooms inside.
Original store packaging:

This is the simplest method, and you can take your mushrooms straight from your grocery bag and pop them into the refrigerator. This method however will not be the best at prolonging your mushroom's life in the fridge, but does a decent job if you intend to use your mushrooms in the next few days.
Loose in a bowl:

Clean your mushrooms and place them in a bowl with paper towels. This method allows you to easily check on their freshness and works best when using a glass bowl.
Want to know how these and even more mushroom storage methods stack up against each other?
Read on below to see how long mushrooms will last using each of these storing methods and choose which is best for you.
The best mushroom fridge storage methods
Not all mushroom storage methods are equal. Kitchn's article comparing mushroom storing methods is comprehensive and shows you the best and the worst ways to store your mushrooms.
According to this experiment, the best mushroom storage method for maximum freshness is a paper bag lined with a folded paper towel. Place the mushrooms on top of the paper towel and loosely close the paper bag.
We break down their findings complete with a rating for each method in the table below:
| | | | | |
| --- | --- | --- | --- | --- |
| Storage Method | Rating | About this Method | Results | Takeaway |
| Plastic Bag with Paper Towels | 1 out of 10 | Wrap mushrooms in paper towels to trap moisture and place in an open plastic bag to allow for ventilation. | After 10 days, all mushrooms were slimy and 4 were discolored. | This storage method tends to trap moisture and after 6 days in the fridge the mushrooms' quality started to deteriorate. |
| Bowl with Plastic Wrap | 3 out of 10 | Place mushrooms in a large glass bowl to prevent crowding. Cover the bowl with plastic wrap and poke holes for ventilation. | After 10 days, half of the mushrooms had a thin layer of slime and 2 of the mushrooms turned much darker than the rest of the batch. | This test suggests that plastic film does not do an adequate job of preserving mushroom quality. |
| Original Container | 3 out of 10 | Put the package of mushrooms into your refrigerator. | After 10 days, the mushrooms still look the same. Four of the mushrooms did have a thin layer of slime and one mushroom had mold. | This method is generally good if you need to store your mushrooms for 5 days or less, as it takes little work.If you need to store longer, consider a different method to prolong shelf life. |
| Bowl with Paper Towels | 6 out of 10 | Line a large glass bowl with paper towels. Spread the mushrooms and then cover them with another paper towel. | After 10 days, half had spots and two of the mushrooms were slimy. | This method allows you to easily check on their freshness. |
| Paper Bag | 6 out of 10 | Simply transfer your mushrooms into a paper bag and place them in the refrigerator. | After 10 days all mushrooms were dry but slightly wrinkly. Four of the mushrooms had dark spots but none had odor. | This method is great at keeping moisture away and "tired looking" mushrooms like the wrinkly ones described tend to boast richer flavors much like dried mushrooms. |
| Paper Bag with Paper Towels | 7 out of 10 | Line a paper bag with a folded paper towel piece and place mushrooms on top. | After 10 days, no slimy mushrooms. Three mushrooms were slightly darker and the rest tan. Three also had some wrinkles. | The mushrooms fared even better than the mushrooms in just the paper bag alone. No slimy 'shrooms! |
Why not support a local mushroom grower this holiday season by purchasing your gourmet mushrooms from a mushroom farm near you?
Check out our interactive map to see if there's a mushroom farm near you: