If you decide to purchase a product from one of the links on our site, we may earn a small affiliate commission from the retailer (at no additional cost to you). We only feature products we would recommend to friends & family. Your purchase through an affiliate link helps us keep this site up and running! 🍄
As the sun-drenched days of summer beckon us outdoors, it's time to fire up the grill and gather with friends and family for unforgettable backyard BBQs and cookouts. While sizzling burgers, juicy steaks, and grilled vegetables often steal the spotlight, there's a hidden gem that deserves a prominent place on your grilling menu—you guessed it—mushrooms!
These humble fungi possess a unique ability to captivate our palates with their earthy flavors and versatile textures. Whether you're a dedicated mushroom lover or someone who wishes to infuse a touch of culinary creativity into your gatherings, we've curated a collection of the best mushroom recipes that will elevate your outdoor feasts to new heights.
From succulent stuffed mushrooms to zesty mushroom skewers, this selection of recipes celebrates the remarkable diversity of mushrooms and showcases their ability to shine as the star of your BBQ spread.
So, whether you're a vegetarian, vegan, or simply seeking to add a touch of umami to your grill, join us as we embark on a gastronomic journey into the realm of mushroom-infused delights.
So, grab your apron, preheat your grill, and get ready to embark on a mushroom-inspired adventure. Let's explore the mouthwatering mushroom recipes that will have your guests begging for seconds and your BBQ gatherings forever marked as unforgettable culinary experiences. Get ready to indulge in the wonders of the fungi kingdom and make your next backyard BBQ an affair to remember!
The Best Mushroom Recipes for Your Next BBQ
Prepare to tantalize your taste buds with smoky, charred mushrooms that add depth to your favorite dishes, transforming them into savory masterpieces. Whether you choose to marinate them, stuff them, or skewer them, mushrooms bring a delightful textural contrast to any grill, making them a perfect companion for meat, seafood, or even as a standalone centerpiece.
1. Portobello Mushroom Burger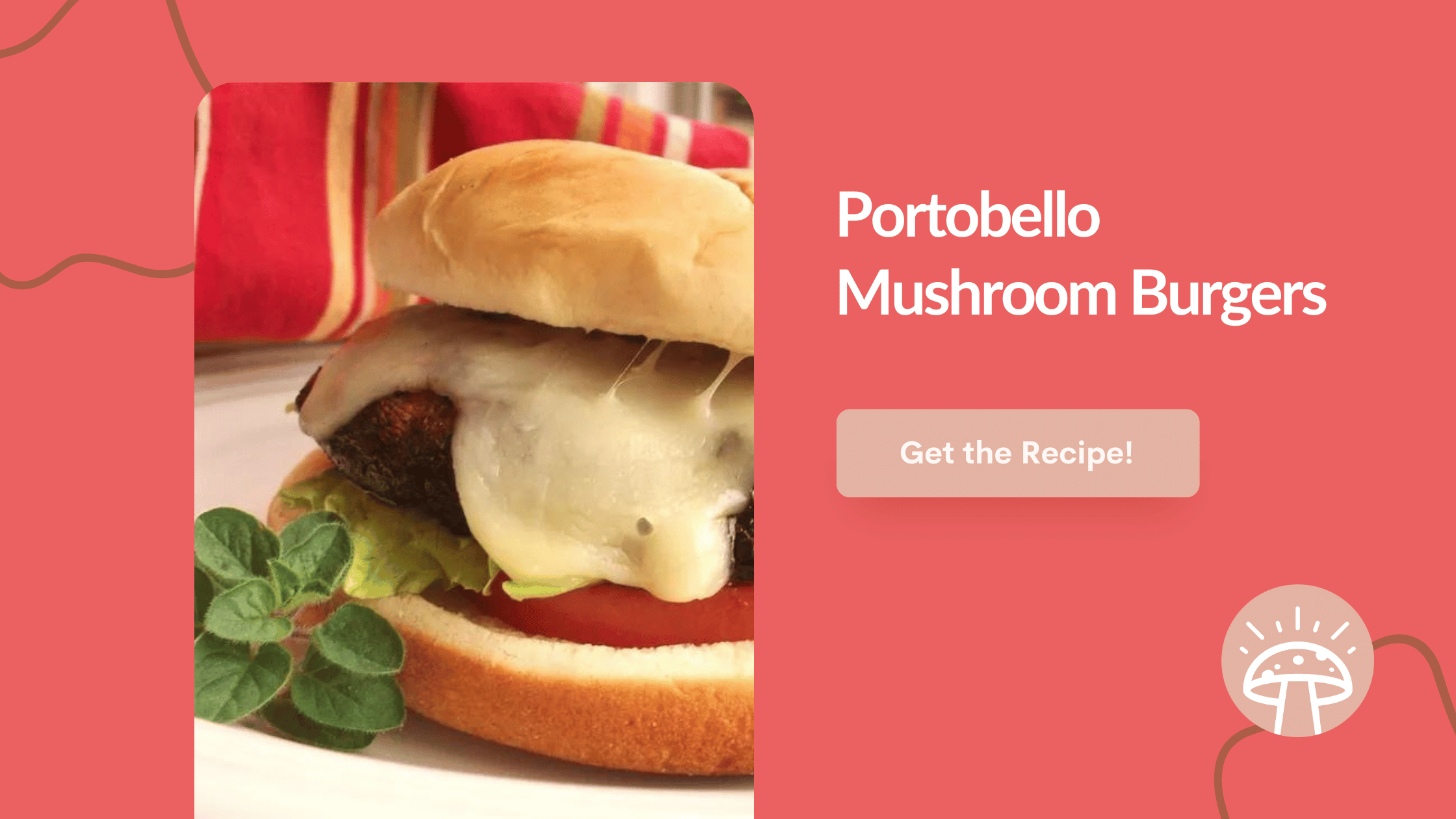 Sink your teeth into a vegetarian burger like no other with the irresistible Portobello Mushroom Burger from AllRecipes. This culinary masterpiece showcases the meaty and succulent nature of Portobello mushrooms, transforming them into a hearty patty that satisfies even the most discerning burger aficionados.
Grilled to perfection, the Portobello cap serves as a flavorful canvas for a symphony of toppings and condiments, creating a mouthwatering combination of textures and tastes.
With its robust umami flavor, the Portobello Mushroom Burger offers a satisfying alternative for vegetarians and meat-lovers alike, making it the star of any cookout or BBQ gathering. Prepare to be captivated by the bold and delicious experience that awaits you between the buns.
2. Traditional Grilled Mushroom Skewers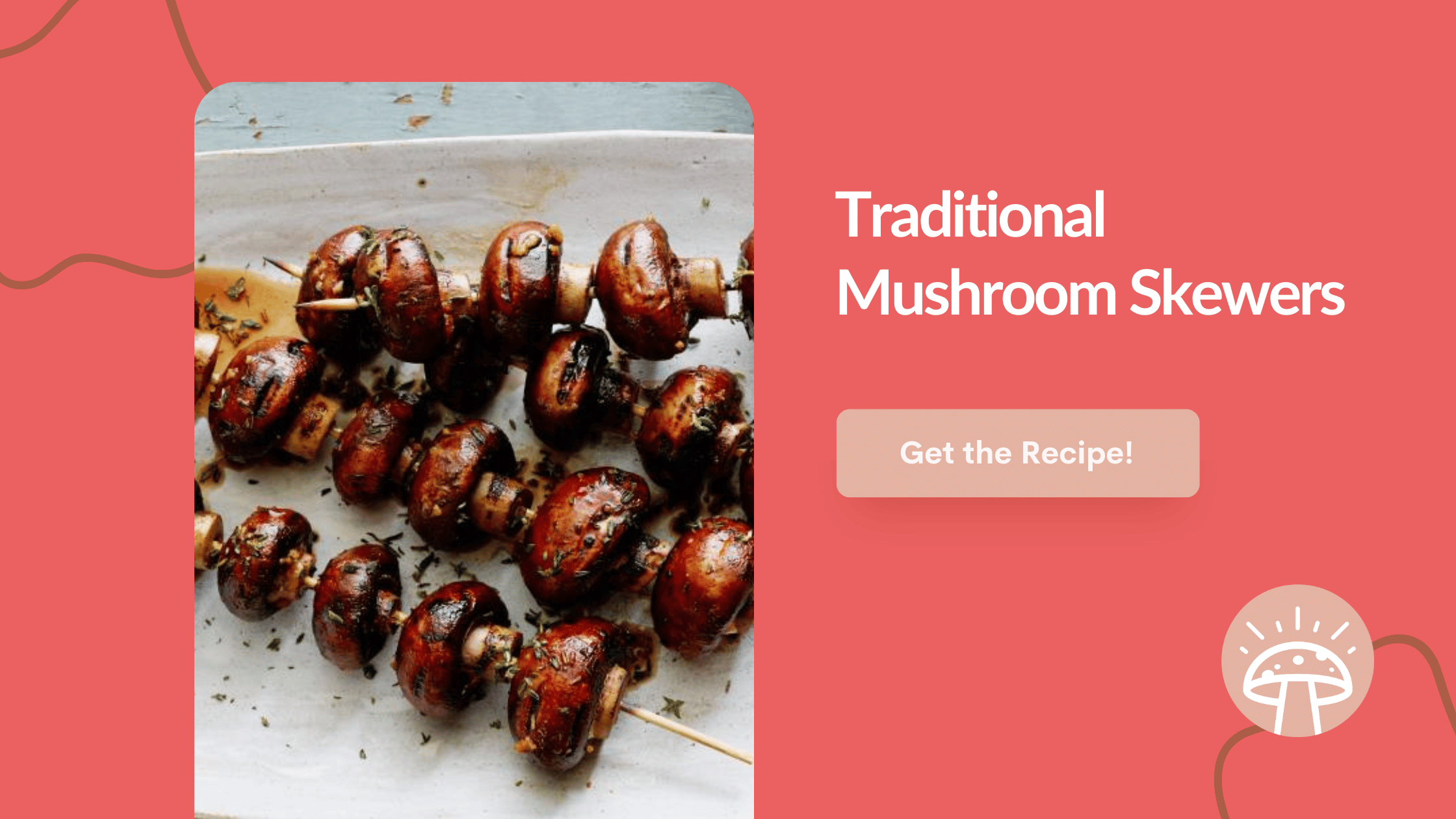 Elevate your grilling game with these Traditional Grilled Mushroom Skewers from the Food Network, a delightful combination of earthy flavors and tantalizing textures. This simple yet captivating dish brings out the natural essence of a medley of mushrooms, threaded onto skewers and kissed by the flames of the grill.
Each bite reveals a harmonious blend of smokiness and tenderness, making it a perfect side or centerpiece for your backyard BBQ or cookout.
With its versatility, you can customize the skewers to include your favorite mushroom varieties, from cremini to shiitake, ensuring a vibrant and satisfying experience for all. Get ready to embark on a skewer adventure that will leave your taste buds craving more.
3. Grilled Honey Soy Mushroom Skewers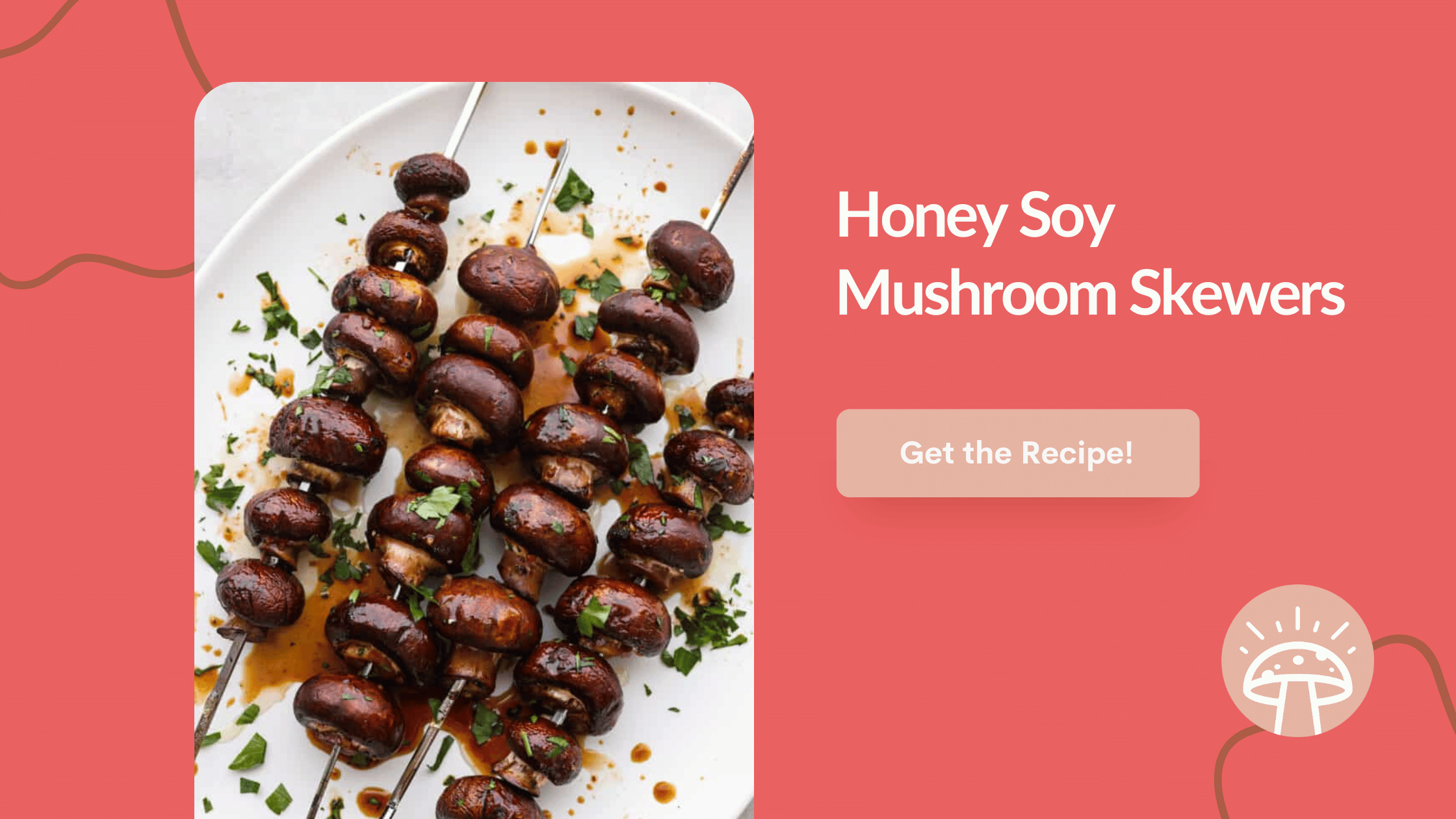 Prepare to be swept away by the irresistible flavors of these Honey Soy Marinated Mushroom Skewers from The Recipe Critic! This recipe takes the umami-rich nature of mushrooms to new heights by combining them with a luscious honey soy marinade. As the mushrooms soak up the sweet and savory concoction, they become infused with a delightful medley of flavors. Once grilled to perfection, these marinated mushrooms boast a caramelized exterior and a tender interior, delivering an explosion of taste with every bite.
The combination of honey and soy creates a delightful balance, complementing the earthy essence of the mushrooms.
Whether served as a standalone dish or added to salads or grain bowls, this marinated mushroom delight is a true crowd-pleaser that will have your guests asking for the recipe.
4. Grilled Balsamic Mushrooms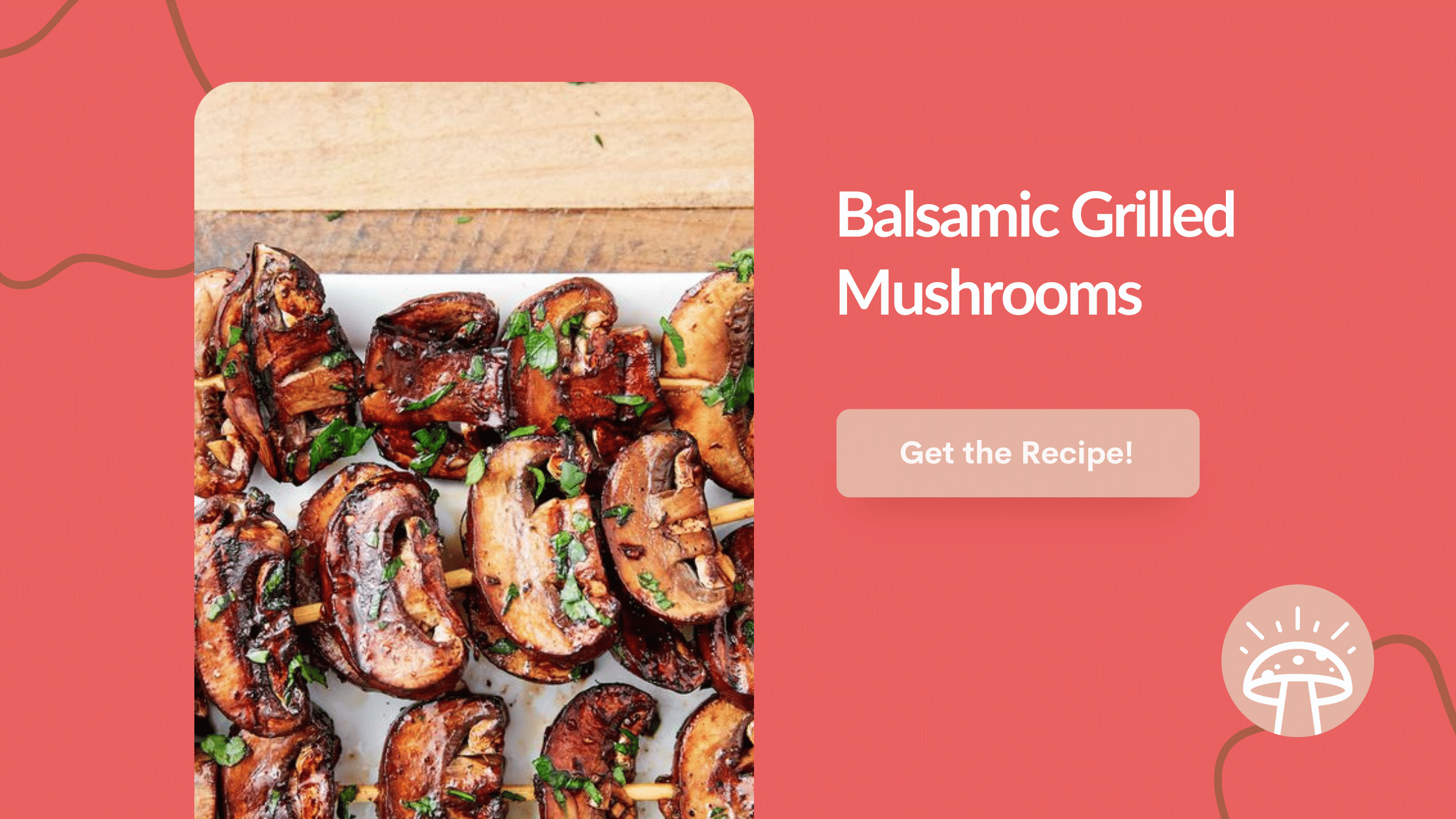 If you're a balsamic lover, trust us when we say you are going to LOVE this Grilled Balsamic Mushroom recipe from Delish, a delectable dish that tantalizes your taste buds with a delightful balance of tangy and smoky flavors.
These mushrooms, marinated in a heavenly blend of balsamic vinegar, garlic, and herbs, undergo a magical transformation on the grill, resulting in a sublime culinary experience. As the heat infuses the mushrooms, the balsamic marinade caramelizes to create a delectable glaze, enhancing the natural earthiness of the fungi.
Each bite offers a tender, succulent texture accompanied by a burst of tanginess that dances on your palate. Whether served as an appetizer, a side dish, or a flavorful addition to salads, these Grilled Balsamic Mushrooms are sure to be a showstopper at your next backyard BBQ or cookout.
Get ready to savor the irresistible combination of smoky char and tangy delight in every mouthwatering bite.
5. Pulled Mushroom BBQ Sandwiches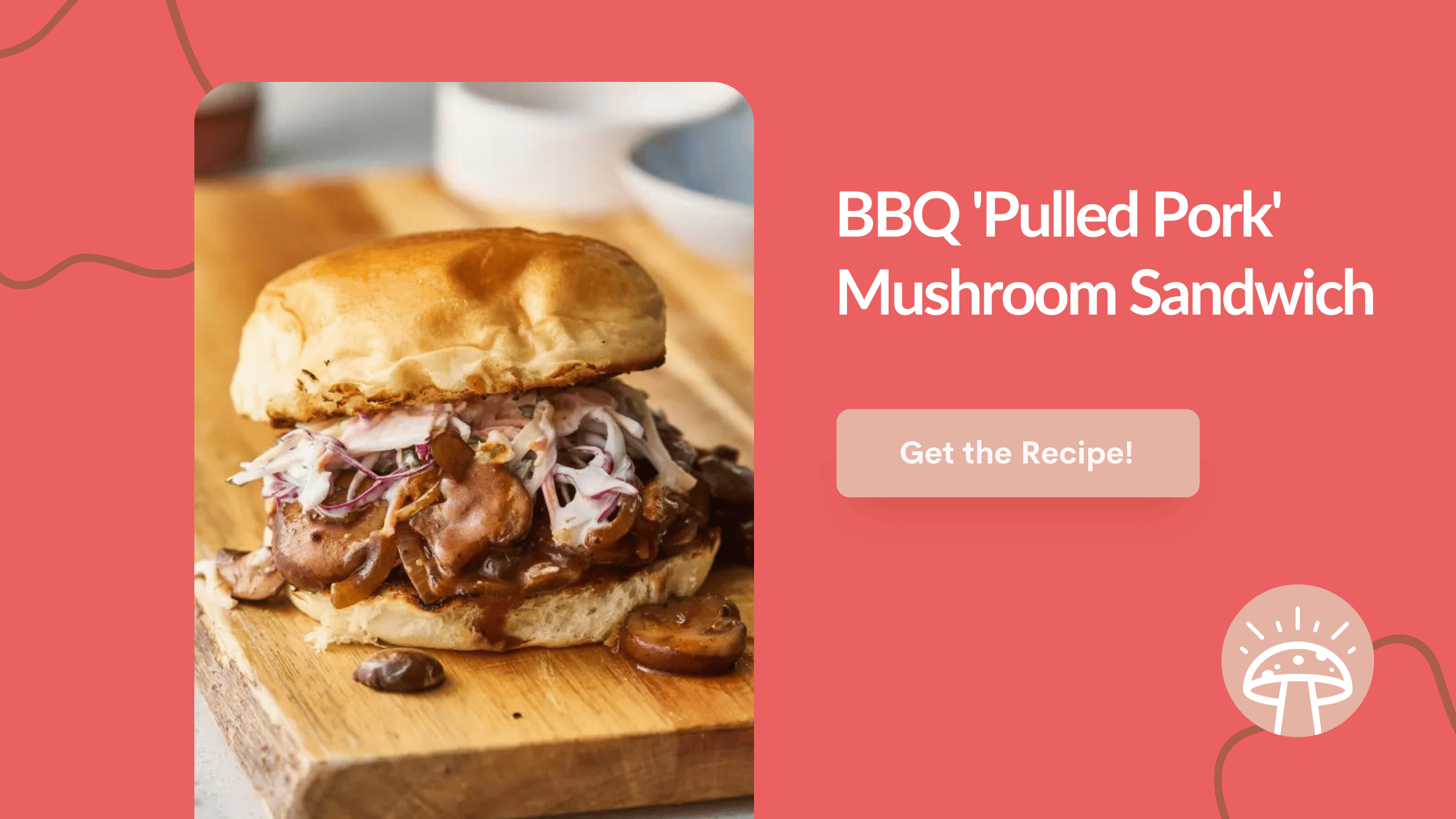 Step into the world of plant-based barbecue bliss with the mouthwatering Pulled Mushroom BBQ Sandwiches from the Kitchn. This delectable recipe offers a satisfying alternative to traditional pulled pork, showcasing the versatility and rich flavors of mushrooms. Pan-roasted in a savory barbecue sauce, the mushrooms soak up the smoky, tangy goodness, resulting in tender, "pulled" strands that mimic the texture of their meaty counterparts.
The best part? You don't need a grill!
With just a skillet and a little time, you can whip up this crowd-pleasing dish that will have your guests reaching for seconds.
Even better, this recipe can be prepared up to three days in advance, allowing you to relax and enjoy your BBQ gathering without any last-minute cooking stress. Serve these delectable pulled mushroom sandwiches on fluffy buns, topped with tangy coleslaw or pickles, and savor the irresistible combination of flavors and textures.
Whether you follow a plant-based diet or simply want to surprise your guests with a unique twist, these Pulled Mushroom BBQ Sandwiches are sure to be the star of your backyard BBQ or cookout.
6. The Best Stuffed Mushrooms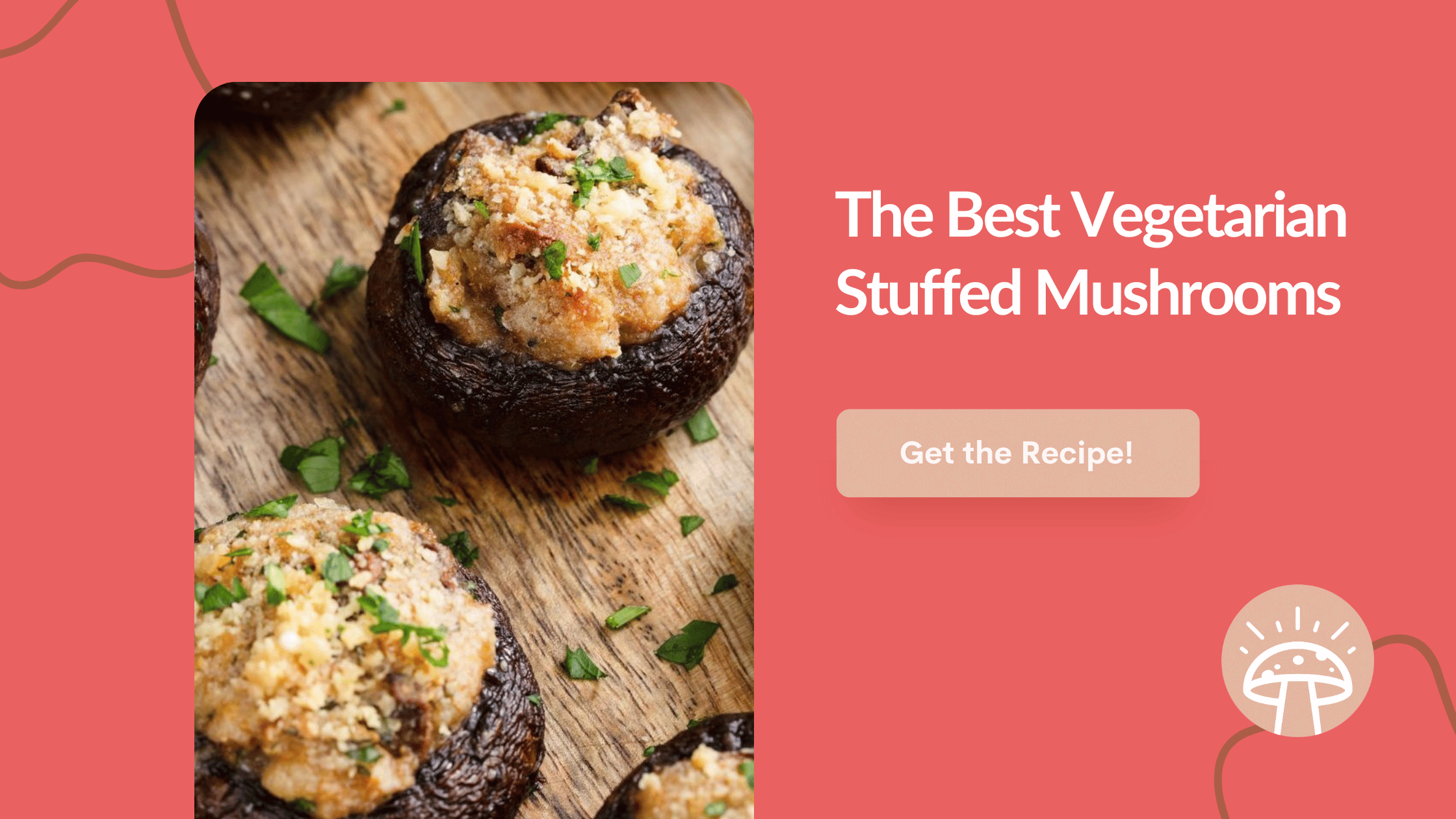 NO BBQ IS COMPLETE without a hefty portion of stuffed mushrooms as an appetizer. Indulge your taste buds in a divine symphony of flavors with these irresistible Stuffed Mushrooms by Delish. Bursting with a delectable combination of garlic, Parmesan cheese, cream cheese, bread crumbs, and parsley, these stuffed mushroom caps are a true delight for your palate.
Each bite offers a rich and savory experience, as the garlic infuses the mushrooms with its aromatic essence, complemented by the creamy tang of Parmesan and cream cheese.
The crispy bread crumbs add a delightful crunch, while the fresh parsley adds a burst of vibrant freshness. Baked to perfection, these stuffed mushrooms boast a golden crust and a tender, juicy interior that will have your guests craving more.
Whether served as a delectable appetizer or a tantalizing side dish, these Stuffed Mushrooms will undoubtedly steal the spotlight at your next backyard BBQ or cookout. Prepare to experience a flavor explosion that will leave your guests in awe and have them asking for the recipe.
7. Crispy and Cheesy Mushroom Appetizer Toasts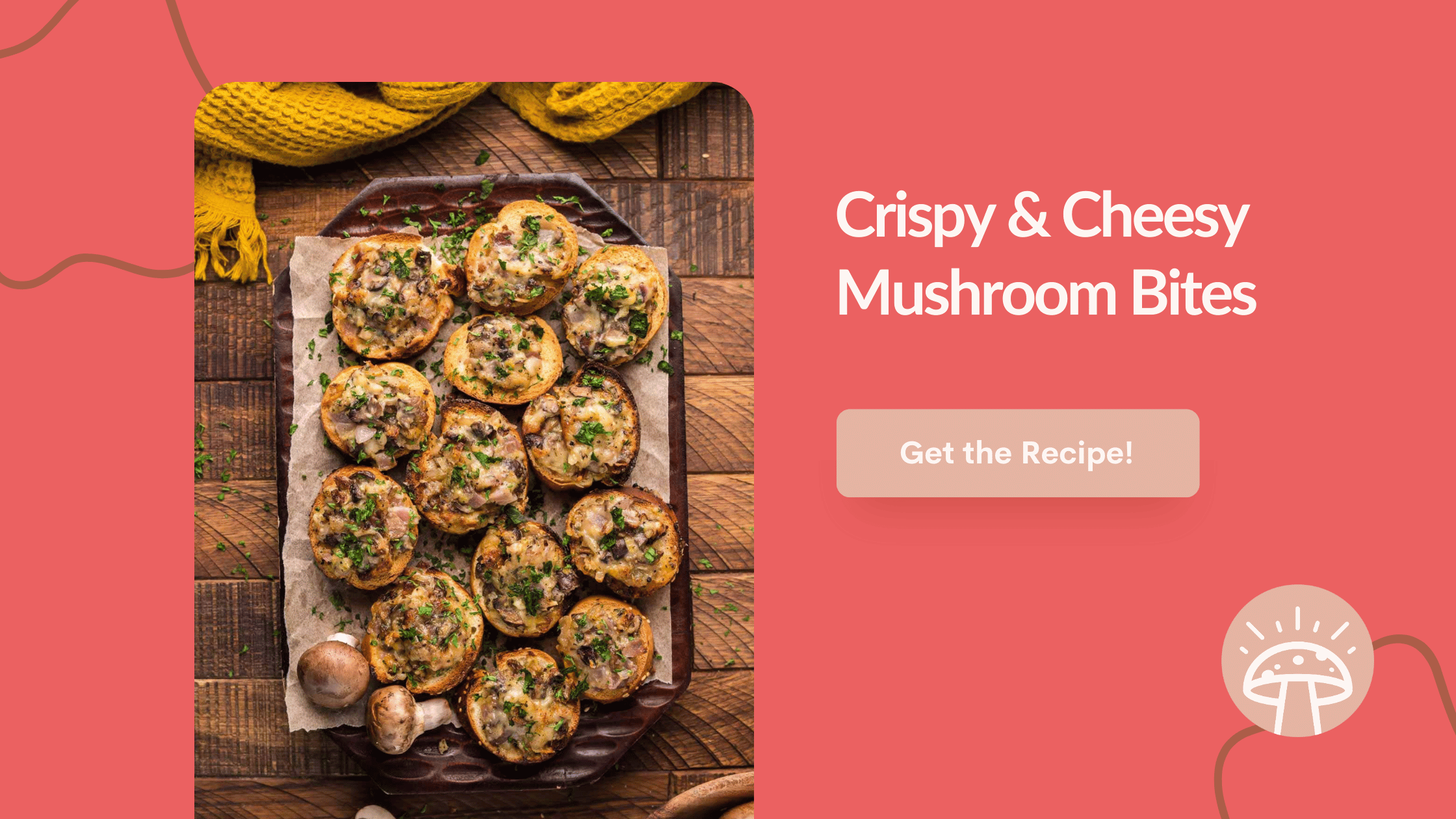 Take your appetizer game to new heights with these Cheesy Mushroom Appetizer Toasts by the Kitchen Divas, a delectable combination of savory mushrooms and gooey cheese atop perfectly toasted bread. This gourmet delight is a true celebration of flavors and textures, sure to impress even the most discerning palates. Sautéed mushrooms, infused with aromatic herbs and spices, create a rich and earthy base, while the melted cheese blankets each slice of crusty bread, creating a luscious and indulgent experience.
The combination of flavors is enhanced by the toasty crunch of the bread, elevating each bite to new heights.
Whether served as a crowd-pleasing starter or as an elegant addition to a charcuterie board, these Cheesy Mushroom Appetizer Toasts are a must-have for any gathering. Prepare to captivate your guests with this irresistible blend of mushroom goodness and melted cheese that will leave them reaching for seconds.
8. Gruyere, Mushroom, & Caramelized Onion Bites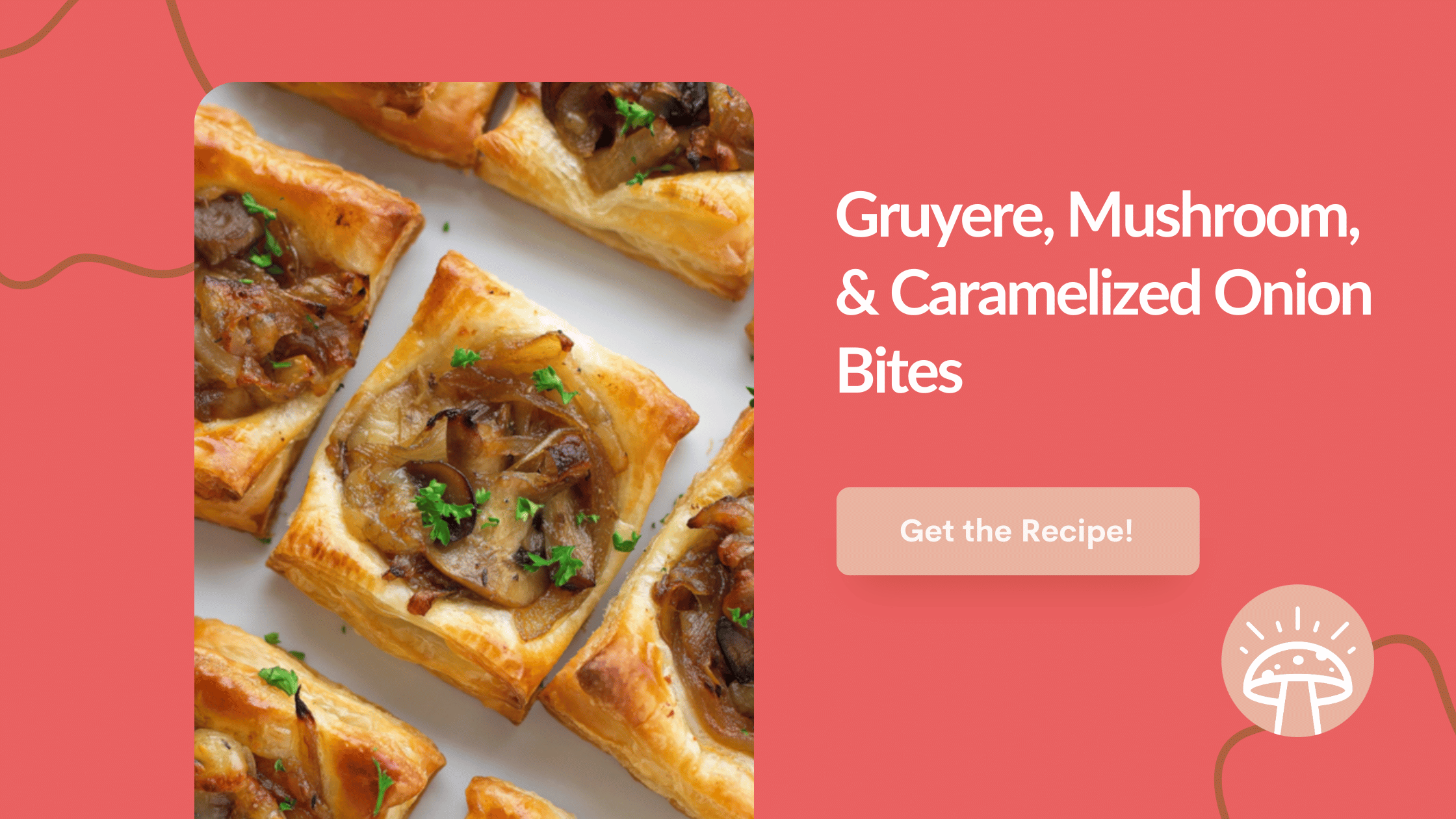 Embark on a culinary journey of gourmet delight with these exquisite Gruyere, Mushroom, and Caramelized Onion Bites from Little Spice Jar. These bite-sized morsels bring together a harmonious combination of flavors that will enchant your taste buds. Each delicate puff pastry cup is filled with a medley of sautéed mushrooms, featuring their earthy essence, and sweet caramelized onions, offering a touch of indulgence.
The crowning glory comes in the form of melty Gruyere cheese, which adds a creamy and nutty note to every bite. Baked to perfection, these delectable bites are a feast for the senses, boasting a crispy golden exterior and a savory, gooey interior.
Perfect for any gathering, these appetizers are sure to leave a lasting impression on your guests, as they savor the symphony of flavors in each delightful bite. Get ready to indulge in the exquisite combination of Gruyere, mushrooms, and caramelized onions, and elevate your culinary repertoire to new heights.
9. Quick Pickled Mushroom Salad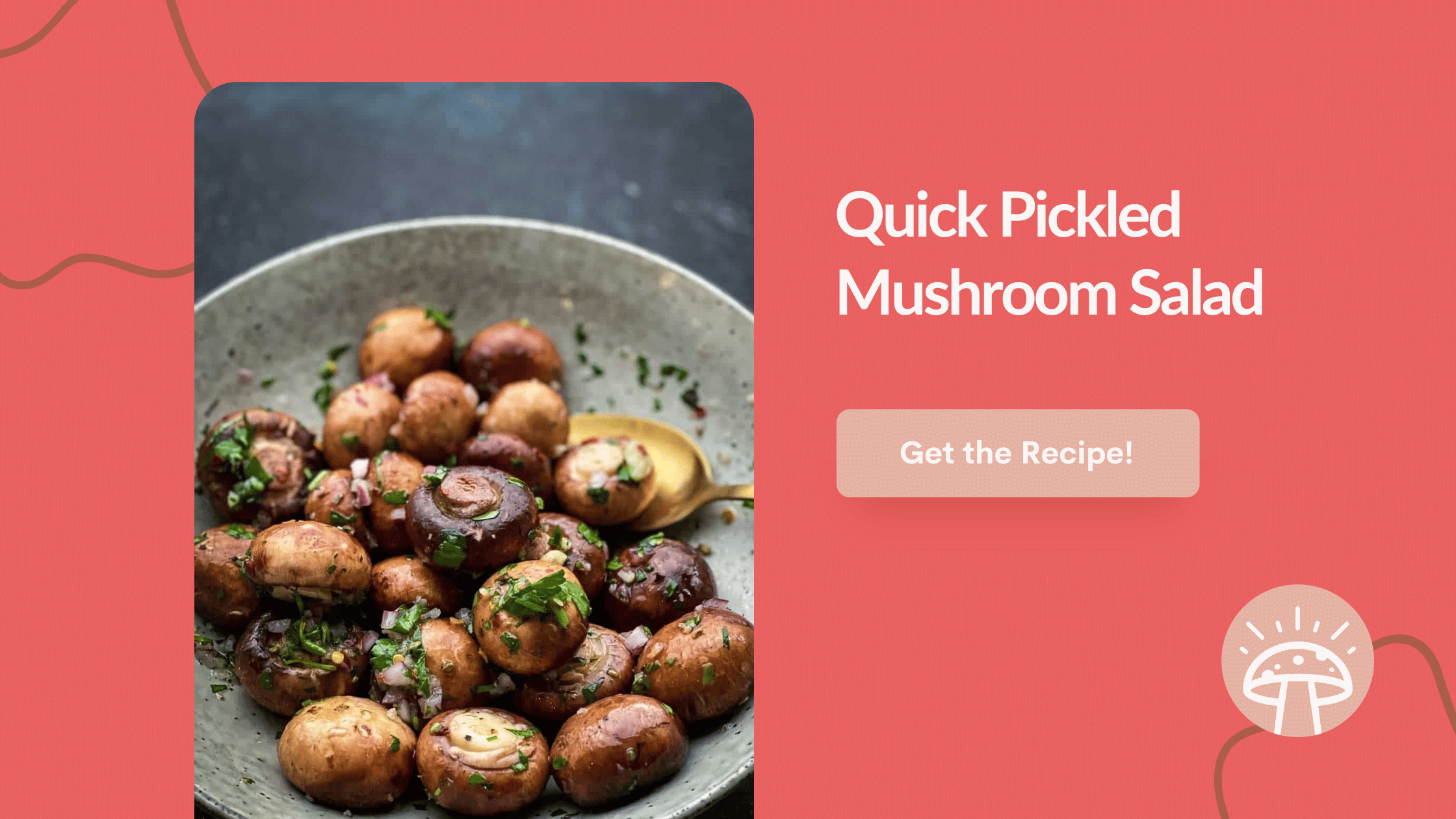 For the vinegar lovers! Introduce your taste buds to a refreshing explosion of flavors with this Quick Pickled Mushroom Salad with Parsley Vinaigrette by the Devil Wears Salad. This vibrant salad combines the tangy allure of pickled mushrooms with a zesty parsley vinaigrette, resulting in a culinary masterpiece that delights the senses.
The mushrooms, pickled to perfection, offer a delightful tanginess that is beautifully balanced by the fresh and herbaceous notes of the parsley vinaigrette. Each bite reveals a medley of textures, from the crispness of the mushrooms to the refreshing crunch of the accompanying vegetables. This salad is not only a palate pleaser but also a feast for the eyes, with its colorful presentation and enticing aroma.
Whether served as a light lunch, a side dish, or a refreshing appetizer, this Quick Pickled Mushroom Salad with Parsley Vinaigrette is guaranteed to add a burst of tangy goodness to your next backyard BBQ or cookout. Prepare to savor the vibrant flavors and experience the perfect harmony of pickled mushrooms and herbaceous vinaigrette in every mouthwatering bite.
---
Want more great recipes, articles, and mushroom content delivered straight to your inbox? Join our rapidly-growing list of subscribers to our no-spam newsletter: The MorningMush!